Chalene Johnson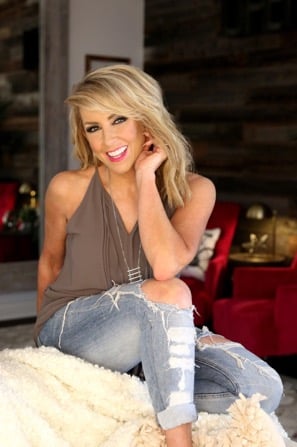 New York Times bestselling author of Push, Chalene Johnson is a lifestyle and business expert motivational speaker and podcast host. She and her husband Bret are the founders of the SmartLife movement. Huffington Post recognized Chalene as one of the Top 50 Female Entrepreneurs to watch in 2017. She is the host of two top ranked podcasts, The Chalene Show and Build Your Tribe.  
As the host and creator of many fitness infomercials and a regular guest on QVC, Chalene has sold over 10 million DVDs and currently holds "The Guinness Book of  World Records" for the most fitness videos.
Chalene and her husband and business partner Bret have been married for more than twenty years. Together, they have built and sold several multimillion-dollar lifestyle companies and helped countless to do the same.
Today, the two run a lean team focused on helping others live a simplified life through their online academies and seminars.
One of Chalene's greatest hidden talents is her ability to kill it in the rap game, and break it down on the dance floor like the true Detroit native that she is.
My Letter to You
March 19, 1995. Bret and I had been married for less than 24 hours. We gathered at his parent's rented beach house. Seated together on a broken, brown couch that smelled like the ocean, we reminisced about our wedding in a room filled with family and unopened gifts from the reception the night before. We were excited about starting our married life together in California.
We sat together that morning opening pots and pans, butter dishes, lovely crystal, new, soft towels and beautiful gifts; all items we carefully selected for our wedding registry.
But there was one gift that has since created a lasting legacy. That gift was a set of his and her's goal-setting journals. Those daily goal-setting journals were life changing. Today, we want to share a gift we believe has that same potential for your life.  
Bret and I have now been married for more than twenty years, and together, we've built and sold several multimillion-dollar lifestyle companies and helped countless others do the same…but not without many failures, loads of stress, and vacations we couldn't take because there were too many deadlines to meet. We learned that crushing goals didn't always result in happiness. Those first planners we used were amazing. They taught us to set and master goals. But we often arrived at our goals feeling tired, depleted and like there was always more we needed to do.
No one was teaching people how to set goals focused on what you wanted your life to "feel like." Everything revolved around what life "should look like." It was unfulfilling. It was exhausting.
So we hacked traditional goal setting, came up with the concept of a Push Goal, and developed the SmartLife Push Goal System.
The goal-setting system we share in our SmartLife PUSH Journals is hands down the #1 contributor to our success and the success of our students. It's more than learning to set goals. It's about designing a life that allows you to "feel" what it is you want to feel.
The secret sauce isn't the journal itself but the concept of a Push Goal; a method you learn by using the journal. This method will teach you how to do less and accomplish more in 90 days than most people do in years. This system has helped hundreds of thousands of people find happiness and a sense of peace.
At first, we practiced this system on our phones. We tinkered with apps and using digital devices to execute this process, but we always returned to what worked for us back in 1995; the daily habit of putting pen to paper in a journal. Our new system needed a daily, physical, handwritten reminder to really work. Thus, the SmartLife Push Journal was born.
The SmartLife PUSH Journal is a culmination of what we've learned and taught to thousands of people just like you. We hope you will join our community and movement to stop the hustle and design your life on YOUR terms! Thank you for being here!
Bret and Chalene