This is Part 2 of "10 Instagram Essentials from Instagram Expert Chalene Johnson for Growing Your Brand with Social Media."
If you missed Part 1, please click here.
#6 – PROVIDE VALUE, MOTIVATION OR ENTERTAINMENT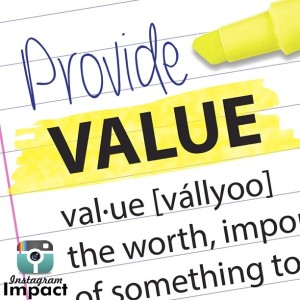 Time is money and all of us want more of both. Keeping this principal in mind you'll create better content for your followers. Imagine that your followers are paying to subscribe to your page. Before you post, ask yourself if your "customers" will find some value in your post. Is it inline with your "theme" as discussed in the first 5 tips? Is this post something that provides a tip, idea, inspiration, motivation, entertainment or value?   If time is money, and you've just wasted 15 seconds of my time by posting a sweaty post workout selfie, well… now you've forced your followers to evaluate if they should keep their "subscription."  We ask ourselves, "Is it worth following this person or account when I have so little time, and I have other accounts or posts that give me value?"  The number one reason why people follow you is because they find your account interesting or valuable. Remember, you're not posting for your Mom or your friends.  You're posting content that a stranger, a new follower, or a potential customer would find valuable, motivational, entertaining or useful.  Potential new customers can't afford to continually give you their precious time if you're not going to give them something of value in return.  Be critical. Ask yourself if it's truly going to be of value.
#7 – QUALITY COUNTS – NO MORE POOR QUALITY PHOTOS or SELF-MADE INFO-GRAPHICS
Instagram was originally developed as a quick filter app for iPhones. Initially all photos were taken from the users iPhone. Some purists, even professional photographers scoff at the idea that people post photos taken from high end cameras. But the truth is, Instagram is a visual platform. The more visually appealing your pictures, the more appeal your content has. Gone are the days of grainy, out of focus, low resolution photos.  Again, approach each post that you make as if your followers are paying for a subscription. Would you keep your subscription to "O" or "Time" magazine if the photos were from someone's 3s iPhone in poor light and with questionable composition? Take a moment to examine the photos selected to appear on the "Explore" page (commonly referred to as the popular page).  Rarely will you find a photo that doesn't exemplify exceptional composition, vibrant eye catching color, high resolution and a professional quality. The exception are from accounts of celebrities like Kim K or the Biebs who can post a fuzzy dark photo of a piece of gum on the bottom of their shoe and still hit the popular page with 10 billion views. Unless you're a Kardashian or the newest member of 1Direction, remember that quality counts and that applies to video, too. Eliminate distracting backgrounds. If people can't clearly see what they're going to get from a tiny thumbnail, they tend to ignore the post.
Additionally, as IG has evolved, so too has our expectations. Info graphics (placing big font messages across your photo) are great *if * you are a graphic artist. We've all seen info-graphics that look homegrown, with 6 different fonts over a grainy, poorly lit iPhone photo. Not only is it not eye catching, it looks messy, distracting and unprofessional. Two options:  1)  Outsource your info-graphics inexpensively to elance.com or odesk.com or 2) Carefully examine the best, most captivating and eye catching info-graphics. Make note of their layout, font size, color and composition and use the work of an expert as your guide.
#8 – HASHTAG BELOW YOUR ORIGINAL POST
This is a simple technique that so few understand. Hashtags allow other people who are searching for a particular hashtag to find your post. Having said that, there are some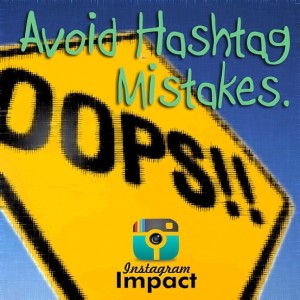 hashtags, such as "#love, #selfie, #TBT, #instagood," etc that are so popular that the moment you use that hashtag so too has 300,000 other users. That means that within about 30 seconds of posting the hashtag, anyone looking at that hashtag will no longer see yours. Popular hashtags, in essence, expire quickly. They also attract such a broad platform that you are unlikely to find "targeted" followers.  In addition, there are hundreds and hundreds of hashtags that you can find which relate to your targeted followers. When you post your hashtags in your original comment, you can only post 30 hashtags and no more. If you wanted to post new hashtags, you would have to delete your originally posted comment which often provides the description for what it is you've posted.  Instead do this…
Post your original comment/description with no or very few hashtags.
Below your original comment (a secondary comment) post a group of 20 popular yet targeted hastags which you can create and store in a "note" on your phone. By storing them in a note you can save time by doing a quick "copy and paste" each time your post
After 1 to 2 minutes, delete that comment with all the hashtags and post a new list of 20 to 30 hashtags from your list stored in your notes. You can repeat this process indefinitely. The more popular the hashtag, the shorter it's lifespan. The last group of hashtags that you leave up should be very specific and less popular. For instance, the hashtag #sunset will only be seen for a few seconds. A hashtag like #stayathomedad is less popular and will still be seen for days or longer.
#9 – LIST YOUR WEBSITE IN YOUR BIO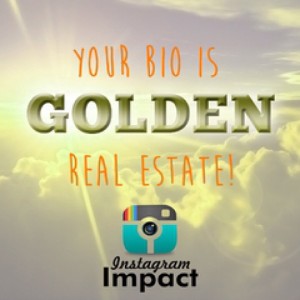 The whole point of using IG is to attract new customers, followers and eventually new business. Once someone has decided they like you, they will want to know more about you to see if they "trust" you and if they want to do business with you. Make it easy for people to find out more about you. If you have a website, send people to your website, not another social media platform. When people click on your bio, it is because they are interested in knowing more about you and perhaps having a conversation. If you do not have a website, you might list your email or suggest people send you an IG direct message.
#10 – AVOID "LIFE CASTING"
Life casting is a term I use to describe the accounts of those who post a little taste of what is going on in their life each day, what they're doing, what they like, who they are with and loads of pointless selfies.  Initially, this worked. When IG first gained it's popularity, many early settlers just posted tid bits of their life and their accounts grew wildly, not because of their content, but because they were the first there. The days of gaining followers using that technique are long gone.  Now people follow you for a reason and unless your super famous, no one really cares who you're with. Sorry, not sorry. Even those who are famous for something in particular, like a, stylist, make-up artist, author, comedian, etc. should post 80% that relates to what their fan base finds valuable.  People still are most interested and getting from you what you are famous for. Think about it…if you were to follow Will Ferrell, you would expect funny, follow Rachel Zoe, you expect style and if you follow a business expert, you want business tips.  Listen, a touch of who you are and what you're doing is great.. but remember the goal is to build your brand and each post that strays from the "reason" why most people started following you may cost you followers and slow the growth potential of your brand.
For more in depth advice on growing your business and brand on Instagram, check out my online training academy Instagram Impact!