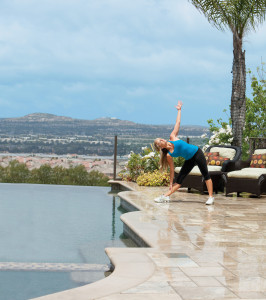 Have you ever stood up after sitting for a prolonged period and felt tightening and stiffness in your muscles?  Then it's likely you need to improve your flexibility.  It's also likely that you know that.  Yet flexibility is one of the most commonly neglected areas of fitness, perhaps because the progress is not visibly apparent.  But improving flexibility does a body good.  A flexible muscle has greater strength potential.  Improved flexibility increases cardiovascular endurance and performance.  With increased flexibility, you'll also move more comfortably, avoid injury, and whatever you do – from stooping to pick up a piece of paper to stretching to grab something off a tall shelf – will feel easier.
That said, you'll spend the smallest amount of time working on flexibility.  That is not to diminish it's importance but to help you prioritize the time you have to devote to fitness.  Your goal may involve dramatic gains in flexibility, but for most of us, flexibility objectives center around improving our function in everyday life.  The easiest way to maintain your current level of flexibility is simply to stretch for 5 minutes after your cardio, while your muscles are warm and pliable.  To actually improve your flexibility, you'll need to devote 1 to 2 days a week to flexibility training.  It doesn't take much time, either.  Simply tack an additional 20 to 30 minutes onto your post-cardio or post-strength-training to stretch.
Improving your flexibility, and including flexibility exercises as part of your regular routine, might not get the scale to move as quickly as a run or eating the right foods, but it will give you an edge.  Consider the benefits of improved flexibility:
~ More energy and mobility
~ More muscle strength and power
~ Improved posture and balance
~ Better athletic performance
~ Reduce stiffness and joint pain
~ Reduce muscle stress and chronic injury
So take the time to schedule flexibility training.  It will be so good for your body!  I promise!
Don't forget to leave me a comment or question below! It's how I serve you better.  And don't be shy! Click the Pin it button below and share this post with those who would benefit from it.
~ Chalene