It's been a crazy couple of weeks. Not just because of everything we're working on here at Team Johnson, but because of everything going on in the world right now. While our thoughts and prayers go out to people all over from Las Vegas to those affected by the recent hurricanes, I do want to focus on the positive and always hope to bring light, laughter, and a little fun to your day as well as provide any tips or information that might make it easier. So in this week's Snapshot, I'd like to start out with a good laugh! I've also go all kinds of motivation, exciting tips for business owners or people who want to make extra income on the side, some food, some fitness, and everything in between! Here we go!
Just for Fun Chat – THE Best Yoga Mat That Comes with Consequences

Need a good laugh? I think everyone could this week. I get all kinds of questions about where I got the round yoga mat I've used in some of my workout videos on Snapchat while doing PiYo. (I'll give you one hint. It starts with an "A.") While I must admit…this is an AWESOME mat. It comes with consequences. So I must give you a little warning, before you get one…


Business Chat – Why TODAY, You Don't Need an Infomercial, TV Appearances or Anything But Social Media to Grow Your Business
This week, I had the honor of attending the Moxie awards (an award show specifically for TV infomercials). While I'm proud to say that we took home every award my PiYo infomercial was being recognized for, and I have to say a big "THANK YOU & CONGRATS!!" to everyone involved…I can't help but think of how drastically the industry has changed in just the past few years.
My first PiYo infomercial didn't work. We followed the typical infomercial format that had been used year after year…fancy set, lights, hair, make up, all sales-y and glamourous. And it tanked. Luckily, when I proposed to Beachbody that we instead try the "infomercial formula" I teach in Marketing Impact Academy, they agreed. I filmed almost all of the footage from my iPhone on the wrong settings. It was grainy, low quality footage, and I even did my own hair and makeup…NOT your typical infomercial footage at all. Guess what? This time, it worked! We held the number one spot for MONTHS.
I've been studying this platform for the last 7 years or so and have noticed a MAJOR shift happening that has leveled the playing field and created a HUGE opportunity for anyone who has an online business or just wants to bring in extra income. Let me explain…

I teach this concept in Marketing Impact Academy and at our Marketing Impact LIVE event. We just recently opened up tickets for this event to the public…and we have a BIG announcement about Marketing Impact Academy coming soon! Stay tuned, and if you haven't already, grab a ticket to our next live event!
You've got to watch this video to see what it's all about and what it's like. Minds will be BLOWN!
Food Chat – What's In My Pantry? Raid My Snack Stash!
What's in my pantry? That's a question I get often. The answer is bags, bags, and more bags. While I try to eat the majority of my foods from the fridge (i.e.whole foods like vegetables, high quality/hormone free meat from Butcher Box, tempeh, some fruit, etc.), I do have snacks on hand to eat in moderation as well as for emergency grab-and-go. Just like my meals, I try to keep my snacks as whole and unprocessed as possible. Here are a few of my current favorite snacks. Click on each one for details and where to find it.
Keep in mind – these are just for emergencies and special occasions. There are SO MANY healthier, tastier snack recipes you can make at home from the ONE3ONE Diet.
Are you on the waitlist yet? It's coming SOON! If you want insider tips and info as well as first priority when we open registration to the public, join the wait list NOW!
>>> www.131diet.com 
Workout Chat – Exercise, Injury & Overdoing It
Over the last week, I had an exercise injury that reminded me of the importance of warming up and taking care of your body…as well as how important exercise can be to your overall mojo and routine. If you exercise a lot, and it's become your drug of choice, it can be really hard to get the amount of rest your body needs…especially if you've created a dependency on it. This can be a great thing, and it can also be an unhealthy habit when it's not managed correctly.
So, today, I want to talk to you about some of the most common exercise related injuries and how to avoid them, as well as how to know if that little twinge you're feeling is just a twinge, or if you need to see a doctor.

Life Chat – A Pep Talk: Stop Stressing.You GOT This!
When life throws you curve balls, or it feels like you've got a little too much on your plate, remember the tips in this video. You can take on more, you can do more. You can handle it. If you couldn't, it wouldn't be put on your plate. Go into this challenge knowing YOU GOT THIS! If you need a little pep talk this week to take on whatever challenges you're facing, this video is for you…

Need a little confidence boost to get your head in the game? Check out my Courageous Confidence Club!
Podcast Chat – If a Full Time College Student/Athlete Can Do It, So Can You!
For those of you who don't know, this is my son, Brock. He's a full time college student and college athlete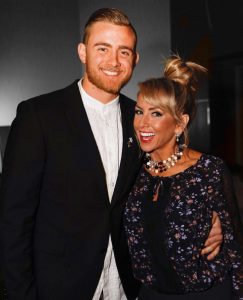 with a very busy schedule. He launched a podcast two months ago and already hit 100,000 downloads! So this week, I wanted to celebrate him by sharing a few of my favorite episodes from his show.
I'm not just saying this because he's my son; his content really is amazeballs! He interviews top experts and gurus in social media and drops serious knowledge about growing a business online and with social media. I even take advice from his show! Here are a few of my favorite episodes.
If you have an online business or want to create extra income online, I hope this inspires you to start a podcast of your own! If a busy college student athlete can do it, so can you! Oh, and make sure you subscribe!
Bonus: New iPhone Features for Business
YouTube: Top Tips with Sean Cannell
I hope you enjoyed this week's Snapshot! As always, I LOVE to hear from you! Your comments and feedback fuel these posts. Please leave a comment with your favorite part and what you'd like to see more of!
And don't forget to follow me on Snapchat! All the fun's happening over here!
Thank you for your continued love and support!
XOXO
Chalene