Last week was insanely busy, but also incredibly fulfilling. A lot went down on my Snap, but don't sweat, because I got you! Here are the top moments from last week, in all their glory!!
Oh, and HEY…. don't forget to connect with me below this post by leaving me a comment!

Food Chat:  Bacon Flavored Tempeh, Kimchi Bowl Recipe
This was one of my favorite meals of the week, so why not give you the recipe!? Guys…. this was seriously so good! I DIE!!! The recipe included Miracle Rice, Tempeh and Kimchi.  I'm a huge fan of Kimchi because it promotes a healthy gut.
If you've never tried Miracle Noodle or Miracle Rice, what are you waiting for?  They are a zero carb, zero calorie, gluten free shirataki rice.  To purchase Miracle Noodles visit www.miraclenoodle.com/chalene and use code "Chalene15" for 15% off!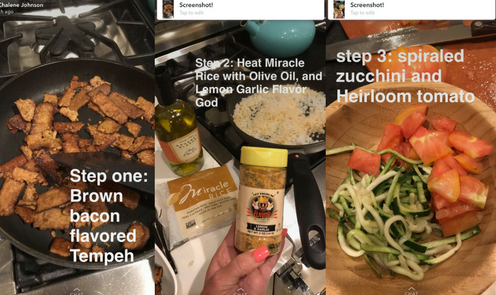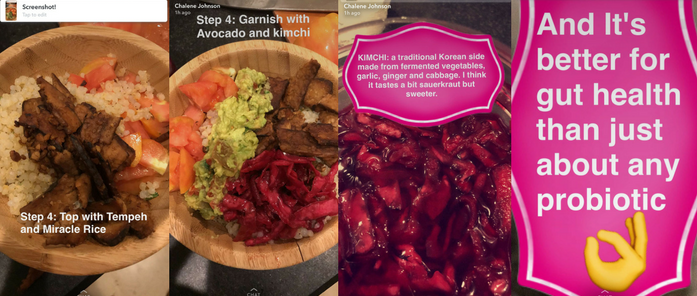 Just for Fun Chat:  My Husband's New Dance Routine
There's not much I can say about this magnificent epitome of rhythm… I'm thinking he should audition for the next Episode of Dancing with the Stars!!!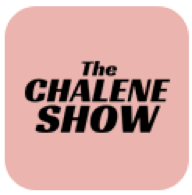 Podcast Chat:  3 New Killer Podcasts Released this Week
I'm really excited about the 3 brand new podcasts that got released this week. Not super familiar with podcasts… Don't stress. Just scroll down. Below I explain everything you need to know 🙂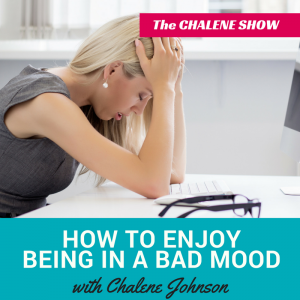 How to Enjoy Being in a Bad Mood | Part 1
Do you ever find yourself in a really bad mood, and you just want to stay there. You want people to leave you alone so that you can bask in the loner-ness that is the epitome of a BAD MOOD!
In this episode we explore why it feels good to feel bad.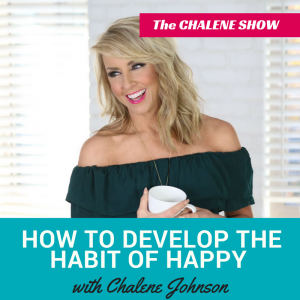 How To Develop the Habit of Happy | Part 2
If you missed part 1 it was about giving yourself permission to have a bad day. However, this is your follow up episode on the habit of happy!
Happiness is a choice… plain and simple. It is also a habit, which means you can take the necessary steps to change your perspective and feeling of overall happiness. In this episode I teach you what you can do to shift your focus and choose happiness!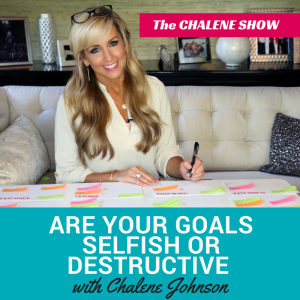 Are Your Goals Selfish or Destructive
When I hear someone say that they have a goal that's on their bucket list, a red flag pops up. Here's why. In my opinion, the true nature of that goal hasn't been explored. Most likely that goal doesn't have the right intentions, however it's probably a goal that would stroke your ego. For example, it's on my bucket list to compete in a fitness competition… or it's on my bucket list to be the best hair stylist in town.
Now I don't want to make a blanket statement that all bucket list goals aren't purpose driven. However, I do want you to hear me out when it comes to a particular goal that doesn't have the right intention behind it.

Special Offer Chat: Smart Success Academy Now Open with AWESOME Bonuses included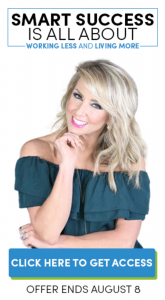 In case you missed my livecast with Success Magazine I did this week, here's an overview of the crazy ridiculous offer I made… I opened up my SMART Success Academy which hasn't been available for quite some time. This is a system to help you put an end to the hustle, and start living life on YOUR terms!
Not only do you get access to this amazing online program but you'll also get:

– 2 VIP Tickets to Success LIVE – Success Magazine's off the hook event where I will be speaking alongside other experts on this topic (many of whom you might recognize!).
– OptimizeMe Success Tool Kit – a never-before-released "results accelerator" program from Success Magazine with high level teachers sharing how to listen to your inner voice to spark personal breakthroughs.
PLUS, you get THREE free SmartLife PUSH Journals (my fail-proof 90 day system for putting this all of this into action) when you use this link to sign up!
This may be your only chance to get in SMART Success Academy this year, and it won't last for long!

Personal Improvement Chat: What are Podcasts, Why You Should Care and How to Find to Find Them
In this video I explain exactly why I'm such a big fan of podcasts. If you are unfamiliar with podcasts and aren't even sure HOW to listen to them, I explain everything you need to know in this video. Learn: how to find the podcast app on your phone, how to search for podcasts that are interesting and relevant to you, and how to subscribe. I also share a story that includes a great tip I gave to a solar energy salesman.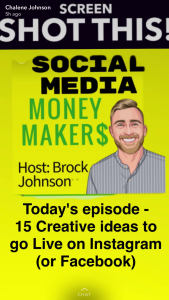 Social Media Chat:  The Best Way to Build Your Followers is by going LIVE
Not sure what to go live about?  I've got a perfect solution for you. Check out my son Brock's podcast – Social Media Money Maker$. He recently did an episode where he gave you 15 creative ideas for your next live broadcast!

Beauty Chat: Hair Tutorial
I did a hair tutorial where I showed you how I do my beachy curls and bangs over on facebook live so check it out here:

I hope you're still enjoying these SNAPshot posts! If so, don't forget to connect with me below with a comment.
– @ChaleneOfficial