OH HEYYYY! Fancy meeting you here! Have I told you lately how much I appreciate you? Thank you for being a part of my Snap Family! I genuinely love having you in my life. Over on snap this week, you got a glimpse into the busy-ness of Team Johnson. There has been a ton of really exciting things happening, and a lot of them I haven't been able to share with you yet. BUT!!! Next week I have a huge announcement, so make sure you stay tuned!
You and I get each other… which means that we are all about life balance. Even though things were a little crazy on my end, I still wanted to make sure I gave you a ton of new content this week! So I put all it together for you here! Easy and quick access!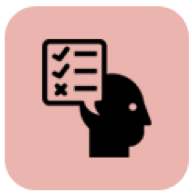 Life Chat – Answers to Your Most Frequently Asked Questions from the Best Weekend
This is a testament to why you should never miss a snap! I spent the weekend in Michigan at a family friend's wedding as an honorary hair dresser and makeup artist, and boy, was it a weekend that can never be duplicated! I got inundated with questions from people who missed a few Snaps and didn't know what was going on…so, while I don't do this often, I decided to do a quick recap on Snap of frequently asked questions from the weekend. From gut health, overuse of antibiotics, to keeping curls in your hair all night long, we sure covered a lot!

Diet Chat – Exciting Details Coming Soon!
I know I promised to release details about my new diet program (the "anti" diet) that we've been researching, developing and testing for over two years now. YOU, my Snapchat fam have been there throughout the whole journey as the pieces have come together, and many of you have even been a part of one of my test groups. I am beyond grateful for your support and for joining me in my excitement about its release. I anticipated being able to release details this week; however, due to factors out of my control, we are going to wait until next week to make sure everything is just right. Here's what's going on… All I can tell you is get excited and if you're not already on the waitlist to be the first to know when it's available, the first to access it, and the first to receive information to help you start your journey now…>>> SIGN UP HERE!

Podcast Chat – How to Become a "Morning Person"
Contrary to popular belief, I'm actually not a morning person. I naturally want to work out later in the day, I like to stay up late, and I get my best ideas at night. However, I know I'm my healthiest, happiest self when I get up early and get my workout in. So much of your routine and natural tendencies are a result of the story you tell yourself. Check out my latest Chalene Show Podcast for steps on becoming a morning person and changing your routine.

Podcast Chat – The Most Popular Types of Stories on Instagram & Snapchat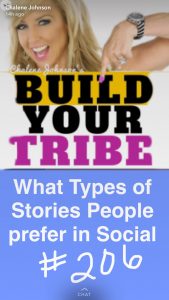 A few weeks back, I asked my Snapchat fam what annoyed them the MOST on social media stories and the top reasons why they unfollow accounts.Then, I asked what people like MOST about their favorite accounts they follow on Instagram Stories and Snapchat. So this episode is almost like a follow up episode…and oddly enough, many of the things that annoy people also drawn them in. So in this episode I talk about what draws people in and how to do it without being "annoying."

Podcast Chat – Why We Completely Revamped Our Business & Went Back into "Startup" Mode
I might sound like a broken record, but there really are SO MANY exciting things going on over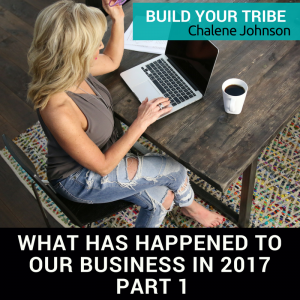 here at Team Johnson! I can't stop talking about how much I LOVE my business and everything we're doing right now. I've even spent a few late nights at the office recently, which is totally unlike me, simply because I love the new direction we're taking, our amazing team and what we're working on.
If you h
ave a business, side business, or something you do just to make some extra income, and you're feeling a little stuck or not loving what you're doing, I think these podcast episodes will inspire you and give you some new ideas. A few weeks ago, I shared PART 1 with you, and I wanted to make sure you don't miss PART 2.

Podcast Chat – Podcast Spotlight: What Really Matters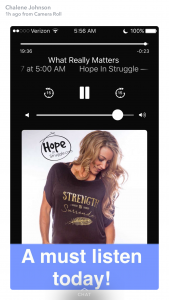 Everyone goes through stuff sometimes. What matters is how we use our struggles to grow. This is one of my favorite faith-based podcasts by one of my dearest friends, and I really enjoyed this episode. >> LISTEN NOW.
Hey! Again, I think you're amazing! thank you for being such an incredible SNAP Family!!! Don't forget to leave me a comment below.  Leave me heart emoji below if you are looking forward to taking on your weekend!