I've been talking to you a lot lately about confidence… Well, there's a reason for that.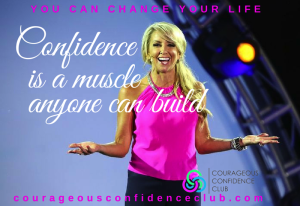 I've decided that my purpose for this year is to help people understand that confidence is a strength that can be improved through the right exercises, and it is my goal for 2015 to help 10,000 people build their confidence and realize that they are unstoppable!
We all Need It
I don't care who you are, confidence is something all of us could benefit from having a little more of. When you think of someone who's really confident, sometimes the first person who comes to mind is somebody who's kind of loud, not afraid to have everybody in the room turn and look at them; it's the person who takes over the conversation, walks into the party like, "HEY, I'm here!" But, honestly, if you think about that individual, and I know somebody probably came to mind, that's usually someone who's actually lacking a little bit of confidence that's why they have to take over.
Loving the Skin You're In
When I think of confidence, I think of someone who doesn't need to lead with their resume, doesn't need to have all the attention, and doesn't need everyone's approval. They're just quietly confident. They're self-assured. They don't need affirmation from everybody in the room. They don't worry too much about what everyone else is thinking. They're comfortable in their own skin.
First, you have to understand that confidence is built with experience. In order for someone to have experience, that means they have to try something they've never done before. And usually most people have a little bit of trepidation, anxiety, fear, or self-doubt before they do something new. And it's that courage that you have to muster up in order to take the steps and understand that… yes, you might fail and know it might not be your best attempt but you just have to do it. Once you feel that fear and you do it anyways, and you realize, "Oh my God, I can't believe it. I didn't die. And it's okay, I'm going to get better at this."
Trying Something New
So whether it's doing something that you've never done before, trying a new workout, asking your boss for a raise, or being the first person to introduce yourself when you're in a room full of strangers at a party… you just have to do it! Get the experience you'll gain each time that you get through it and realize, "Oh my gosh, this is crazy. I didn't die. It wasn't that bad and I'll get better next time."
You can't get better at something that you've never done. You just have to put yourself out there. I know it sounds scary. But every time you do it, you'll realize, it wasn't that big of a deal.
You and I both know that investing in building your confidence trickles into every area of your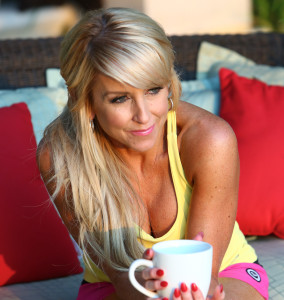 life. My goal for this year is to help 10,000 people improve their confidence, and therefore improve all areas of their life. Why not you!? I CAN teach you how to strengthen your confidence muscle! Just go to www.CourageousConfidenceClub.com and join the thousands that have already made huge improvements in their lives!
To join the Courageous Confidence Club CLICK HERE 
Other Helpful Links:
To listen to Chalene's Podcast CLICK HERE
Chalene's Social Media:
www.facebook.com/chalene
http://instagram.com/chalenejohnson
www.pinterest.com/chalenejohnson
www.twitter.com/chalenejohnson