If you like this episode, check out Episode #656 – How to Over Come Self Doubt and Believe in Yourself with Jaime Kern Lima 
Self doubt and negative self-talk could be costing you money, relationships and happiness — in both your personal life and as a business owner. On today's show, I'll help you have more belief in yourself, break the habit of negative self-talk and find positive ways to transform your personal / business life.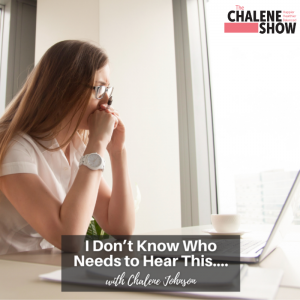 Important Links from the Show
Click here to subscribe to The Chalene Show!
Click here to rate and review!
Make sure you scroll down, tap to rate with 5 stars, and then select, "Write a Review." Then be sure to DM me with a screenshot and I'll do my best to read your review on the air! 
Leave me a message about this episode!
To submit requests for The Chalene Show: [email protected]
To submit requests for Build Your Tribe: [email protected]