In this episode, I talk with close friends, Scott and Shaun T Blokker — who have been married for over 10 years. They share their entire story: how they both came out to their families, how they met, fell in love, and decided to become parents. As it is for many gay couples, becoming parents can be quite the journey, and it was no different for Shaun and Scott. They take you step by step through their surrogacy journey: from picking egg donors to choosing potential surrogate mothers to, ultimately, welcoming their 2 beautiful sons into the world. Spanning several years, their story was filled with heartbreak and stress, but, in the end… triumph and great joy!  
You'll find out:
Shaun and Scott's prior relationships before they met
Why Scott came out much later in life (and the story behind telling his parents)
Why Scott didn't like people saying "I knew" when he came out to them
The toughest person for Shaun to come out to
Did Shaun and Scott grow up with a dream to be married?
Why/when they both started talking about marriage
What their fertility doctor first told them
Why it's advised not to use an egg donor you know personally
What went into the decision behind the race of their surrogate
All the boxes to check off when choosing a surrogate
Why deciding on your surrogate is a strange process
The details behind the egg donor process
Why finding a surrogate mother feels like speed dating
The emotional and financial turmoil involved in the surrogacy journey
The point at which Shaun and Scott almost gave up
The decision to have boys
When they got the call they were pregnant (for the last and final time)
The sibling relationship between their sons
Scott and Shaun's current relationship with their surrogate
Advice/words of wisdom for those going through the surrogacy process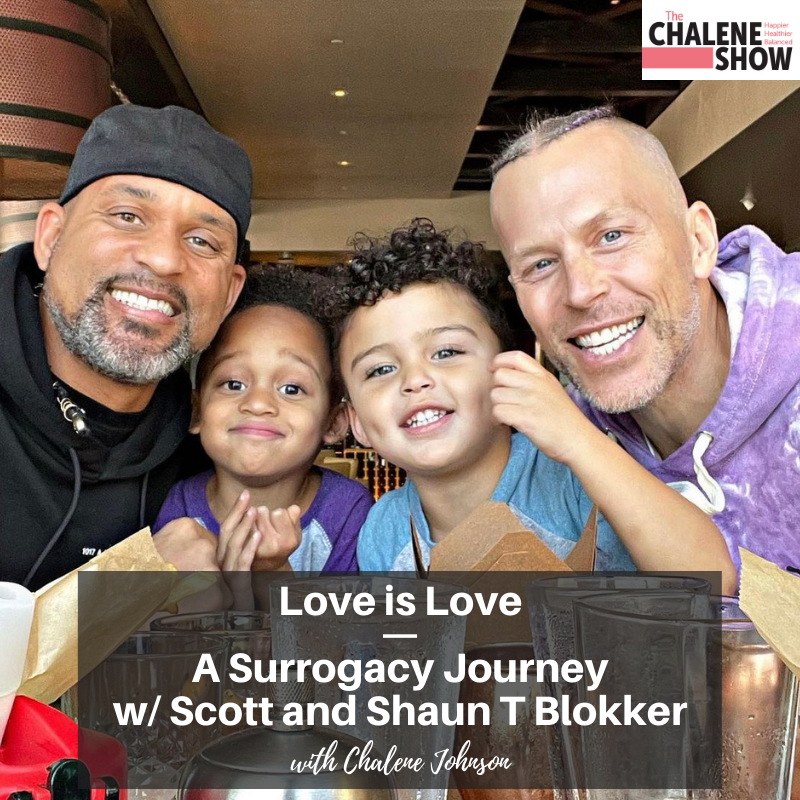 Important Links from the Show
Click here to subscribe to The Chalene Show!
Click here to rate and review!
Make sure you scroll down, tap to rate with 5 stars, and then select, "Write a Review." Then be sure to DM me with a screenshot and I'll do my best to read your review on the air! 
Check out Shaun's Podcast, Trust and Believe
Trust and Believe Episode with Scott, Love is Love 
Follow Shaun T on Instagram
Follow Scott on Instagram
Follow Bill, Scott's dad, on Instagram
If you liked this episode, check out Episode #791 – Realistic Advice From Real Intimacy Experts, Alisa and Tony DiLorenzo
Leave me a message about this episode!
To submit requests for The Chalene Show: [email protected]
To submit requests for Build Your Tribe: [email protected]