Everyone and their brother has a podcast today. So, how do you stand out? And how might you monetize your podcast (other than paid sponsors)? Answer: Subscription-based platforms that make it easy to get paid! Cue, Patreon! Today, I welcome Lauren Wrighton, podcast management expert. We'll discuss all things Patreon (and other membership-based platforms), like: who they're for, what you should have in place before launching, and so much more!
You'll find out:
How Patreon got started (re: their intent)
Why I have considered starting a Patreon
Other options similar to Patreon
What exactly is a paid subscription through sites like Patreon
Examples of podcasters who are exclusively on Patreon
What's considered a high fee for a Patreon monthly subscription
The lowest price point you should consider as your fee (for members) on Patreon
One of the major differences between Apple and Patreon re: the percentage they take from creators, podcasters, etc.
Perks that Patreon / Apple provide when using their services
Lauren's thoughts on what makes an enticing Patreon offer to your subscribers
What are tiers on Patreon and how many should you offer (and can you have too many)?
How one is able to get paid-for podcasts along with their everyday free podcasts
Why Spotify won't allow aspects of Patreon
Why Lauren recommends listeners use the Patreon app
What podcasters need to do before they launch their Patreon
How Patreon is community building
How much a creator needs to pour into their Patreon community
What you need to have set up (for payments and such) to start up a Patreon
How to handle when a percentage of your audience is less than enthusiastic re: you starting a Patreon
How does one promote their Patreon?
Can you block people from joining your Patreon?
Recommendations for new podcasters to boost their numbers
Who should consider being a podcast manager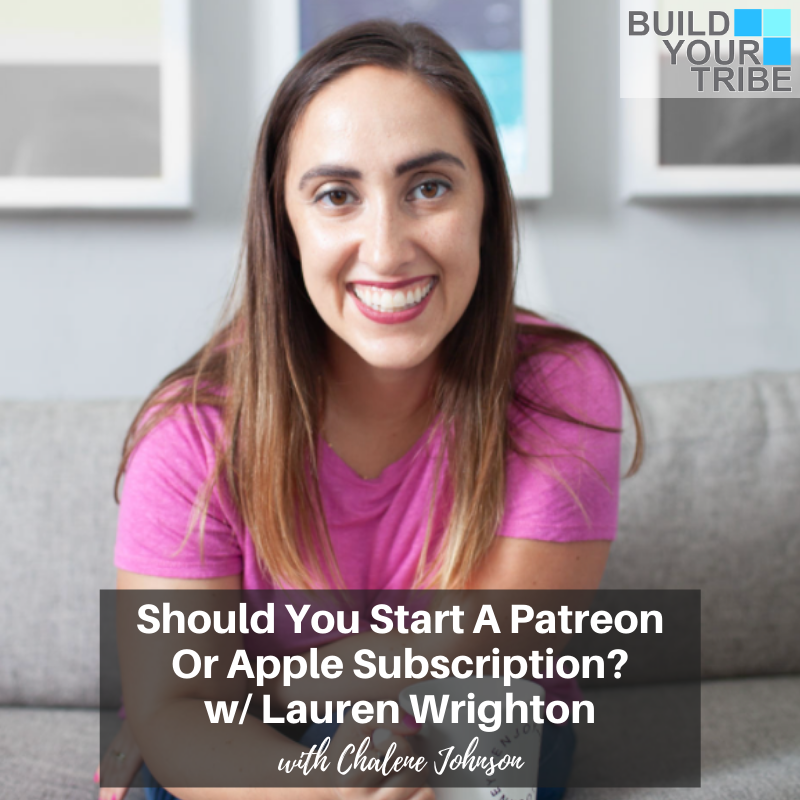 Important Links from the Show
Click here to subscribe to Build Your Tribe!
Click here to rate and review!
Make sure you scroll down, tap to rate with 5 stars, and then select, "Write a Review." Then be sure to DM me with a screenshot and I'll do my best to read your review on the air! 
Subscribe to Lauren's Podcast, The Podcast Manager Show
Follow Lauren on Instagram @laurenwrighton
Check out InstaClubHub! The ONLY All-In-One Instagram Resource Community Designed To… Grow Your Following and Reach More Customers on Instagram™ (All in Just Five Minutes a Day!)
If you liked this episode, check out Episode #546 – My Personal Launch Checklist
Leave me a message about this episode!
To submit requests for The Chalene Show: [email protected]
To submit requests for Build Your Tribe: [email protected]