How to Stop Quitting and Follow Through with What You've Started
Are you a "quitter"? In this Live recording of The Chalene Show, Chalene shares exactly how you can stop quitting on yourself and start finishing the things you set out to do! You'll learn how to recognize WHY you keep quitting so that you can finally stop. It's time for you to close out all those extra tabs in your mind and commit to following through with your dream.
It's important that you check in with yourself before signing yourself up for failure. Naturally, as human beings who want the best lives that we can have for ourselves, we tend to put too much on our plate. Now, the reason we sometimes don't follow through isn't that we are not strong or determined enough to finish what we sign ourselves up for, but because it simply is too much to do all at once. In this episode, you'll learn how to recognize what your reason for quitting really is. You will discover how to create realistic goals for yourself that you know you can follow through with.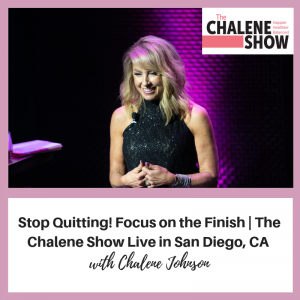 What You Will Learn In This Podcast About How You Can Stop Quitting and Start Finishing:
If you don't stick to something you're never going to be successful. (2:30)

How to get out of the pattern of starting things and not finishing them. (2:50)

Why you must recognize why you quit. (4:10)

How to inspire change in others. (6:45)

You need to be more selective when picking things you want to start. (7:00)

What to ask yourself before deciding to start a project. (8:30)

How to know if your timing is right. (9:25)

Be realistic with your desire to do things in the moment. (10:50)

How to set smaller milestones. (12:20)

And more!
Thanks so much for tuning in to this episode, recorded live at The Chalene Show Live in San Diego, CA.
Are you interested in attending a Chalene Show Live Event? Head to chaleneshowlive.com to buy tickets for a show nearest to you!
Important Links from the Show
Click here to subscribe to The Chalene Show.
If you liked this episode, check out the last Chalene Show Live episode, recorded in Indianapolis, Indiana – Episode 318 – How to Improve Emotional Connection with Your Significant Others.
Leave me a message about this episode!
To submit requests for The Chalene Show: [email protected]