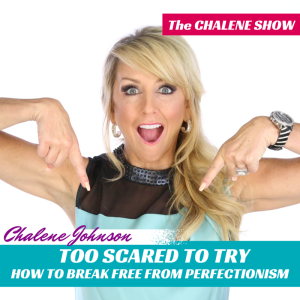 Are you overcome with perfection paralysis?
Many times our fears hold us back and keep us from moving forward with something. Fear of criticism, fear of being over analyzed, fear of failing at something in someone else's eyes.
Did you know I used to be in a punk rock band!? Yep! I got a guitar for christmas and decided to just go for it. I shaved one side of my head and the other side was long…I would take a section of my long hair and braid it, then rubber band a lego at the bottom of the braid…I'm NOT joking! This actually happened! I tell you this because I didn't succeed at being in a band, some might call it a failure, but I don't. You know what's even crazier!? When I started in fitness I was a horrible instructor. I was so terrible that I could tell by the look on peoples faces that they were staying because they felt bad for me.
But in both of these situations, I just went for it. I wasn't worried about failing. If I was, I wouldn't be where I am today.
Topics discussed in this podcast:
– Figuring out why you are allowing perfectionism to paralyze you.
– How to overcome the sense of fear when perfection paralyzes you.
– What to do moving forward when you are faced with perfection paralysis.
Links:
30 Day PUSH Program for goal setting and determining priorities: www.30daypush.com 
SMART Success Academy for learning how to overcome overwhelm,do less while accomplishing more, and how to create a blueprint for your dream life: www.smartsuccessseminar.com
Marketing Impact Academy for learning how to take your business to the next level by marketing on social media and following best practices:  www.marketingimpactacademy.com
Chalene Johnson's 7 Day Eat Clean Train Mean Program: www.cj7day.com
Chalene Johnson's Instagram Impact Program: http://www.chalenejohnson.com/instagram-impact/
BlueHost web hosting: http://www.bluehost.com/track/teamjohnson