Call it destiny or serendipity or luck, but your headlining chat in this week's Snapshot features marriage tips from Bret and I. And just why is that serendipitous? Well, the 2nd Friday of June, today, just so happens to be National Marriage Day! This was not something I knew before deciding on which talk would headline the blog. Isn't it cool when the Universe works out like that? You'll also find conversations on health (the worst thing for it) and personal development (why you're self-sabotaging). Let's get to it so that you can be your best self for you and your partner…
Relationship Chat – 3 Tips On How To Keep Your Marriage Alive
No matter how long you've been married – 4 months or 4 years or 40 years – it's to be expected that the initial spark will dwindle over time. All kinds of everyday things may be the culprit: career, children, in-laws, money, secrets, jealousy, conflict, and misunderstandings, etc. I mean, we, as humans, are inherently flawed and complicated creatures. So, bring 2 people together and there can be a lot of crazy. Just sayin'!
Before we know it, an unfortunate reality may slap you across the face. That man who shares your bed, all of a sudden, feels like a stranger.
Did you take each other for granted? Stop trying as hard to make things work? Whatever the reason, we must remember that a good marriage takes effort.
Whether you and your spouse need a jolt in the love/romance department or you just want some knowledge for a future relationship, here are 3 tips from Bret and I. They've really helped to keep our marriage strong, alive, and exciting! And, from the bottom of my heart, I hope they work for you, too…
One of the aspects I love most about your SmartLife PUSH Journal is that it helps you figure out the one area of life you need to focus on most at this time. Included in the mix is ROMANCE. If you feel that you and your significant other are lacking in this area, then you must pick up a new set of journals today! I'm telling you, no other system out there will get you where you need to be in the love department. Or health department. Or career department. Or fitness, spirituality, finances, and more! Oh! And new colors just released this week! They're just too cute right now in their Aquamarine, Fuchsia, and Orange Sherbet!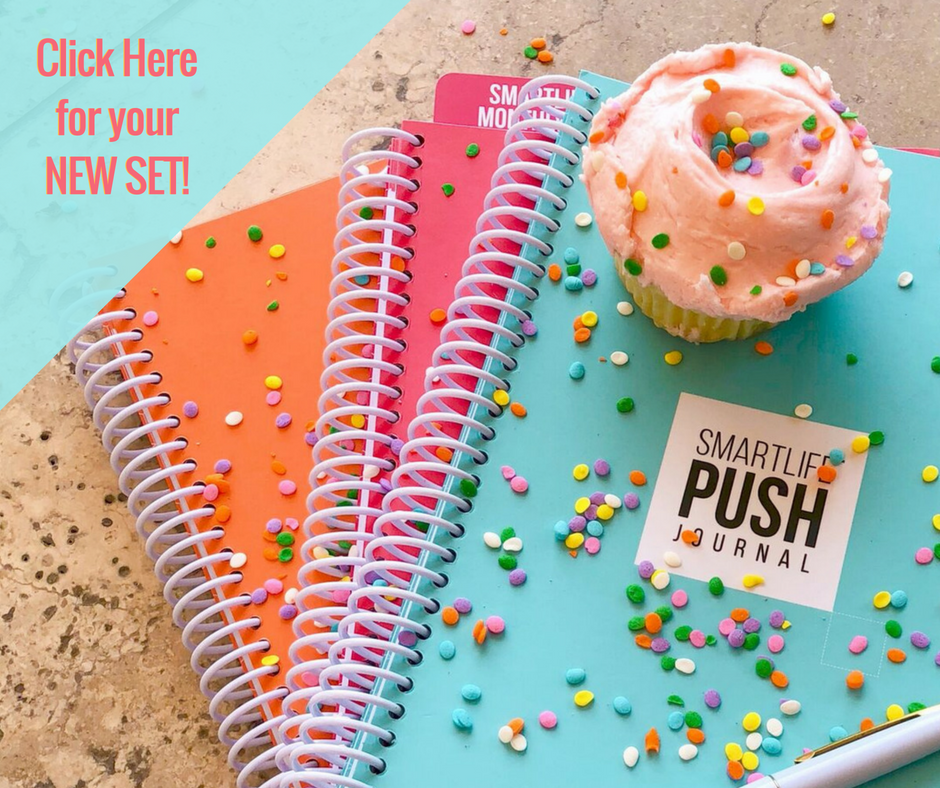 Health Chat – What Is The Worst Thing For Your Health?
When people think of bettering their health, they almost always think of diet. Don't get me wrong, I created 131 Method because there's so much confusion and miseducation out there when it comes to nutrition. When you figure out your health from the inside out, you are revitalized in a way that can't be explained.
That said, while diet is a crucial element to your overall well-being, there is a HUGE factor frequently left off the table. It is this "feeling" that has the most detrimental impact on your health – from body to mind. What is it? Hit that play to get the 411!
Personal Development Chat – Why You Self-Sabotage
It's easy to see (and sometimes judge) someone else's self-sabotaging behavior. You know, one of your bff's – who happens to be super talented – keeps screwing up opportunity after opportunity. Sure, we can wax psychological about HER choices, yet aren't able to look at our OWN cycle of repetitive bad choices.
That's because we have to work hard at attaining the self-awareness needed to fully comprehend why it is we keep messing things up for ourselves to begin with.
You've heard of the conscious and subconscious mind, right? The conscious mind is the logical one. She is writing in her PUSH Journal every night. The subconscious mind is the emotional one. She is getting drunk the night before her important interview.
Self-sabotage happens when these 2 minds compete with each other. What many people don't realize is that the subconscious (or unconscious, to get nerdy specific) is always running the show. It is our deep-below-the-surface way of shielding pain and coping with fear. And, sadly, we're almost NEVER aware of it.
While the next video seems to be, at its core, about exercise, please look closer. Let this real-life example serve as a reminder that it's so easy to make excuses. But when it comes to your health, you gotta be smarter. Not just for you, but for those who love you.
As per usual, each of this week's clips come straight from Snapchat! Unedited.
Just you and me. Having a conversation. Getting real. Lots of funny.
Make sure you're following me on the Snap to always be first in the know!
Your dedication means the world to me. And, don't forget… it's mutual. I'm always here for you.
XOXO
Chalene
PS! Don't miss an exclusive LIVE recording of The Chalene Show podcast!
Where: Indianapolis, IN
When: Friday, June 22 | 7:30pm
Space is super limited (VIP is already sold out)!