Okay, okay – I MAY have gone a little "snap crazy" this week, but there's just SO much stuff I'm excited to share with you! Whether you want straight talk about diet, personal development, social media and business tips…or a podcast story you absolutely cannot stop listening to…it's all right here in your weekly Snapshot! If you listened to the podcast I've been raving about (or you listen after reading this), leave a comment on this page if you participated, so we can continue the conversation!! Oh, and heads up!! If you're looking for ways to grow your business or create extra income on the side, I have a BIG announcement coming next week!! Stay tuned!!
Business Chat – Does It Hurt Your Brand to Show Imperfections?
This is a question I get a lot: "Do you think it hurts your brand to show imperfections or your true struggle?" This is often so overcomplicated by people who teach business, and it's something we simplify and teach extensively in the Marketing Impact Academy. Long story short, your brand is who you are – the parts of who you are that you want other people to connect with.  There are some messy parts we should keep to ourselves, and some parts we can share to help others.
Here's a mini branding lesson that's a small snippet of I teach in Marketing Impact Academy to answer your question…

Marketing Impact Academy is a program we created to help people learn exactly this. People keep asking about the Marketing Impact LIVE event and how to get in our Marketing Impact Academy online. At the moment it's closed, but there's a rumor it will be opening soon. If you didn't already get a ticket to the live event, hold off until next week, because I have something really special planned!
Whether you want to learn how to build an existing business or start something part-time online (like Etsy or an online shop, building your MLM/network marketing business, etc.)…we teach you the how-to's and short cuts! I wanted to give you a heads up because so many people budget for this or wait all year for it, and they miss it because we take a small group of students through it together. If it's something you're just hearing about for the first time, do your research.
GO HERE to learn more about what this program does for people, who it's right for and if it would help you.
Podcast Chat – Drop Everything! Shocking Podcast Story You MUST Listen To!
If you're an avid podcast listener, and you liked the podcast "Serial," you're going to FREAK OUT about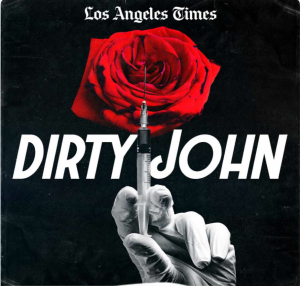 this new podcast just released! It's 6 episodes long and currently #1 in the podcast category. It's called "Dirty John."
It's a true crime story that happened in Newport Beach, and all I can say is that it's SHOCKING. This is definitely a binge listen. Call off work, get a baby sitter, and put all responsibilities on hold for a few hours, so you can get through these episodes, and we can talk about it!
Seriously, this is like a homework assignment. I need people to talk to about this. Drop everything – you have to listen to this podcast story this week! Leave me a comment below when you do with your thoughts…
Health Chat – Fasting 411 & One Thing You Should NEVER Do
There's so much buzz out there about fasting, and I get so many questions about this on a regular basis. First, I want to warn you: you should NEVER jump into a fast without preparing your metabolism first, specifically making adjustments to your Kreb cycle (something we teach in the ONE3ONE Diet). I'm not a fan of just jumping into a fast, and I know it's a popular thing a lot of people are doing right now for the wrong reasons, which can be very unsafe. How you do your fast all depends on your goal. Let me explain…
Want to learn more and finally break the chains of dieting? Join the waitlist for my "anti-diet," the ONE3ONE Diet. It's all about balancing your hormones, igniting your metabolism, creating a healthy gut, reducing inflammation and kicking stubborn weight loss to the curb for good! It's coming FALL 2017. Get on the waitlist for tips and behind the scenes info, as well as first priority when we open registration to the public very soon!
GO HERE TO SIGN UP: www.131diet.com
Food Chat – Meal Inspiration: Healthy Substitutes for Cheese, Rice & Sour Cream
Mr. Johnson cooked up a delicious dinner this week that I wanted to share. While this isn't a recipe, it's intended to inspire a healthy meal and healthy substitutions. Oh, and don't expect it to be pretty (my sister claims that after I got my hands on it that it looks like "barf"), but expect it to taste ah-mazing!
Here's a list of the ingredients:
Mushrooms

Bell Peppers

Flavor God Everything Spicy Seasoning

Flavor God Cheese Seasoning

Avocado Oil

Creamy Dairy-free Cashewgurt (Unsweetened Plain)
Relationship Chat – Tips to Raise Confident, Self Sufficient, Kids Who Understand The Value of Money
They say when you pay for something yourself, you appreciate it and take care of it. This is one of the reasons why we had our kids buy their own cars and taught them how to start a side business to raise money for the things they wanted. While this look inside my daughter's car is quite comical, I still believe this to be concept to be true.
My son Brock, shared some great insight on raising entrepreneurial kids as a college student looking back on his childhood. This is a GREAT episode for anyone with kids or young adults in their life – a MUST listen!
Book Chat – Expecting The Best From Others & How to Avoid a Defensive Mindset
Here's what I'm currently reading: "Make Today Count" by John C. Maxwell. It's about relationships and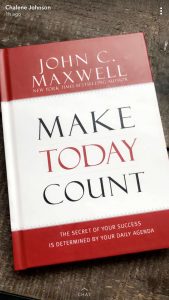 placing value on people. I'm loving this book, and wanted to share a quick summary of a piece that really hit home; something I think we all should keep in mind..
Here's a quick summary of my favorite part of the chapter I'm on…
Place a high value on people. Expect the best from everyone. Assume people's motives are good. I think all too often, people assume others are out to get them, assume the worst of others, and take a defensive mindset when they think of other people. Instead, you should value people by their best moments and give them your friendship rather than asking for theirs. That will ultimately be their decision.
Amen! This book is a must read! Here's where you can find it!
I hope you enjoy these updates as much as I do! As always, I LOVE hearing from you, and your feedback fuels these weekly posts. So let's talk! I want to hear what struck you the most this week and what you want to see more of. Leave me a comment!
XOXO
Chalene