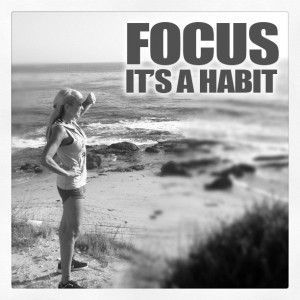 On January 1st, 2013, I was so excited to kick off the New Year with over 25,000 people – 25,000 amazing individuals with a rip-roaring passion to crush their biggest goals this year!  It's been so fun to follow along with everyone on their journey…reading their comments on social media and seeing the 30 Day Challenge photo-a-day pictures on Instagram has been SO cool!  However, as I read many people's goals for 2013, I'm seeing a BIG PROBLEM!
GOALS THAT ARE TOO VAGUE!!  Your success is so important to me, and I know the 30 Day Challenge will help you achieve any goal you set for yourself.  BUT, if your goals are too vague, it won't work!  So, stop what you're doing…drop everything…and let's fix this right NOW!
When it comes to goals, the more specific you are, the better.  Most people don't know that they will be more successful in achieving their goals when they are clear and measureable.  So, today, I want to share with you a few of my goal setting tips.
Goal Setting Tips
To truly be successful at goal mastery, make sure your goals meet the following criteria: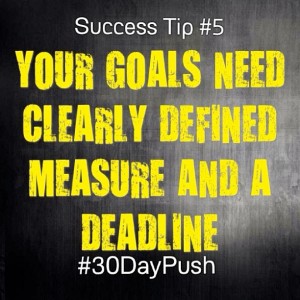 1. Write your goals in the first person as if you've already achieved them.  Put yourself in the mindset that you've already achieved your goals.  They're not just a dream, and they're not option.  Envision yourself as having already accomplished what it is you want to do.  For example, you would write, "I am fit and running 3 times per week." versus "start running."
2. Give your goals clearly defined measure.  Goals need numbers.  For instance, when writing out your goals, you would include the number of days you aim to exercise, or the amount of money you've saved, the percentage of body fat you will lose, the earnings you make each week, the number of contacts you will make each day, or the number of resumes that will be sent out each week.  You would write, "I have lost 25 pounds," as opposed to "I will lose weight."  Whatever your goal is, give it measure, so you can clearly see whether or not you're on the path to achieving it.
3. Set reasonable but aggressive timeframes. We all work BEST with short-term, pressing deadlines.  Take a look at your goals list, and rewrite it in first person. Add measure and a shorter deadline! If your PUSH goal is to save $52,000 this year, then rewrite your goal to say, "I have cut out all needless spending, kicked up my focus on my business, and I am saving $1,000 per week!" Another example would be to write "I am saving $200 per week." versus "Save more."
Further clarify your goals!  You REALLY can accomplish anything you want with a plan and the right habits!  I