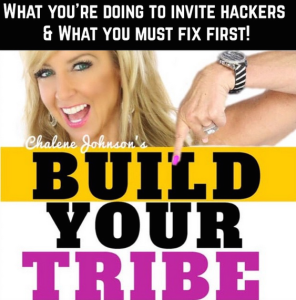 Everything's OK! We're safe!! I promised to update you on my social media sites getting hacked…I want to clarify a few things as well as update you on the steps YOU need to take to protect yourself.
We've received a lot of calls and had a lot of questions in social media about this, and I want to clarify that this attack was on a personal level for me…my personal information. My business sites have not been hacked.
At Team Johnson, we are at the highest level of security (we actually have 3 layers of security in place)…This means it's perfectly safe to come to any of our websites!
But this doesn't mean we're invincible…in fact, NO ONE is "safe."
Go here for my podcast to learn how you can avoid this happening to you. 
This has now become a Public Service Announcement. You MUST take steps to protect yourself.
This is not a marketing ploy. This is not to convince you to do anything other than protect yourself. I truly believe this is the reason why this happened to me, and I'm determined to share with you how you can avoid being next. Social engineering and hacking is at an all time high. It doesn't matter how many fans or followers you have on social media…EVERYONE is at risk. (Even someone with as little as 10 web site visitors a month…yes, this just happened to someone I know.)
You must take steps to protect yourself. Period. End of subject. Today, on my podcast, I'm sharing exactly what I learned and how you can do it, too. Drop everything. Before you do anything else today, take just a few minutes to put the most basic level of security in place at the very least. More coming soon. I just wanted to let you know that we are OK, our sites our safe, and that you need to protect yourself, too.