So you're on Periscope??…Now what?? First of all – props to you for BEING FIRST and taking the leap into a new social platform I'm predicting will be huge! When opportunities like this come about, the people who get there first (or second) and start figuring it out now are the ones who will thrive!
 Now that you're on Periscope, the question remains…Do you have a DOPE scope?? Use this checklist to find out and get my must-follow tips for having a #dopescope!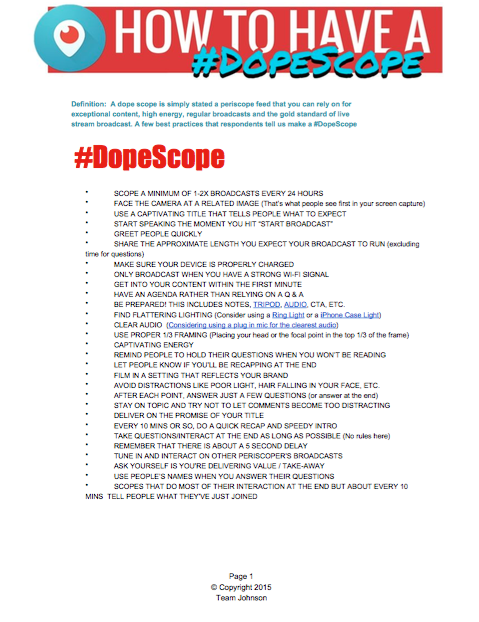 Click here to download my Dope Scope checklist.
What's a dope scope?? 
Definition:  A dope scope, simply stated, is a periscope feed that you can rely on for exceptional content, high energy, regular broadcasts and the gold standard of live stream broadcast. 
I've put together a quick (yet very comprehensive) checklist of everything you need to know and do to have an awesome Periscope! This is exactly what people want and expect from your broadcasts…tested and proven…The reason I know is because this information comes straight from Periscope users themselves! I've done tons of research and took several surveys from thousands of Periscope users who told me exactly what they want from a scope. It's super easy, and it's all broken down for you here…use this link to get your how to have a "Dope Scope" checklist.
***If you were not sent to this page via email, and you just so happened to stumble across it, you're missing out on all my other free Periscope tips and training! To get the full training, sign up here.***