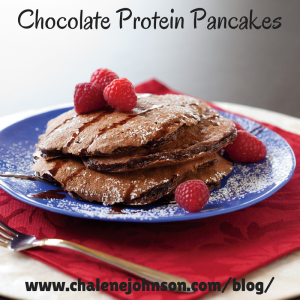 Sometimes you just want chocolate and bread!  So this throw-and-go Chocolate Protein Pancakes recipe from my NY Times Best Selling Book Push, gives you the best of both worlds!  I love to eat these pancakes warm with a few banana slices rolled in the center and a little drizzle of honey. They're also awesome cold, dipped into some of your favorite yogurt.
If you're not a breakfast person and like intermittent fasting, make these and eat them for on-the-go-snacks. Or, make them for dinner with a side of egg whites. YUM! Check out of of our other favorite pancake recipes here, made in a blender!
Ingredients:
1 cup egg whites
1.5 packets of Instant Oatmeal
1 teaspoon vanilla extract
1 teaspoon ground cinnamon
.5 cup chocolate protein powder
Stevia, to taste
Directions:
Mix egg whites, oatmeal, vanilla, cinnamon, protein powder, and sweetener in a blender and process until completely blended.  Pour the batter into small medallions on a hot griddle or nonstick skillet.  The batter is on the thicker side, so take the back of a spoon and spread out the batter so that the pancake is flattened to about 4 inches in diameter.  When you notice the edges starting to bubble, flip the pancake to the other side.
Makes 8 pancakes.
Per serving (1 pancake): 91 calories, 10 g protein, 12 g carbohydrates, 1 g total fat, 2 g dietary fiber, 105 mg sodium.
Let me know how you liked this recipe by leaving me a comment!  Also, don't be shy!  Click the Pin it button below and share the love!  Want more great recipes from me?  Check out the 131 Method blog.
~ Chalene