This week my blog is dedicated to dispelling some of the most commonly held myths in fitness. Myths that might effect how you train, when you train, why you train…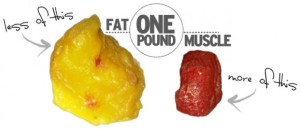 MUSCLE WEIGHS MORE THAN FAT?
It's kind of like one of those riddles because if you think about it. Does a pound of fat weigh just as much as a pound of muscle?… #DUH!
In reality, what people are trying to explain is that muscle is actually more dense than fat. In other words, it takes up less space. Think of fat as being fluffy almost like cotton candy. Well, gooier. Think of fat as being voluminous… as taking up more space.
But that's how I want you to think about fat. Fat takes up a lot more space than muscle. And so when people say that muscle weighs more than fat, really what they're saying is that muscle takes up less space than fat.
My own personal example of that is after I gave birth to my son, Brock. I hadn't gained much weight with that pregnancy so by about two or three weeks after I gave birth, I was back down to the weight I was before I got pregnant, which is kind of crazy. But here's the thing, I couldn't fit in any of my clothes because my body fat wasn't the same. My body fat was much, much higher because I was nursing and had just given birth. So even though on the scale the number was even a couple of pounds lower than what it was before I got pregnant, my size was bigger.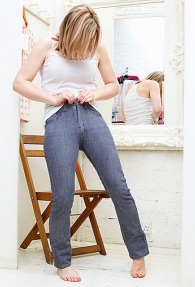 I couldn't wear the same jeans. Things didn't fit the same way. And ladies, you know what I'm talking about. After you have a child, unless you are one of those from another planet celebrities, most women after they give birth, everything is just gooey and gross. Things are in the wrong places and just, well… thank goodness that you have this little bundle of joy. Otherwise, it would be quite depressing. Eventually, you do lose body fat. But that body fat is very necessary. But the bottom line is, it takes up a lot more space.
It is also a myth when people will say, "Well I started this new workout program strength training. I started it last week and I'm up a couple of pounds so I guess I'm putting on muscle."
No. That's not what's happening. You haven't put on that kind of muscle in a week's time. I mean, God bless you. That's just not possible. What happens when we do start a new exercise program, whether it's cardiovascular or strength training, the muscles are doing something that they haven't done before and typically what happens, especially if you went really hard and it's something that you're brand new too, your body is responding to the trauma.
Now I know that sounds really bad, but it's okay. Because if we put our bodies under stress, that's what creates change and transformation. So when we place an inordinate amount of stress on the body by doing something new and we're really sore, that soreness is in effect from trauma to the muscles or tissues.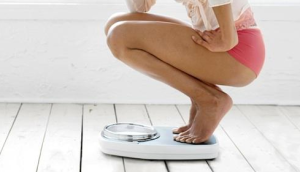 Now as you know, when there's trauma to tissues, what does the body do? It collects water. It holds on to water to kind of help repair and restore that area. So when you're trying a new workout program and you're a couple days in and you're really sore, I'll bet you'll notice that your soreness correlates to your weight gain. That's why I always tell people, when you're starting a new workout program or if you're really, really sore, don't get on the scale.
Let your clothes be the best judge and then, again, remember that you are probably holding water when you're sore. And when we're holding water that takes up space. It just does. So wait until your soreness has subsided before you get back on the scale and try not to make excuses for yourself.
Join my again tomorrow morning for another fitness myth dispelled!
– Chalene
Don't forget to leave me a comment or question below!  I love hearing from you.
Connect with me:
Chalene's Courageous Confidence Club: www.courageousconfidenceclub.com
This program gives you the tools you need to build confidence in every area of your life. You are supported by a group of people who are going through the program with you and are a sounding board for decisions and opportunities. This program will get you unstuck from your current situation and will teach you the steps needed to get your life in the direction you want!
Chalene's Social Media:
Facebook: www.facebook.com/chalene
Instagram: http://instagram.com/chalenejohnson
Pinterest: www.pinterest.com/chalenejohnson
Twitter: www.twitter.com/chalenejohnson
Listen to THE CHALENE SHOW >> https://itunes.apple.com/us/podcast/chalene-show-motivation-leadership/id911042029?mt=2