Create a Healthy Pantry & Fridge
Ever notice how the brand name, sugary foods at the grocery store always seem to be staring you in the face…tempting you?  Food marketers pay millions of dollars to place certain foods at eye level to increase sales.  Today, we're going to take a lesson from grocery stores and rearrange your kitchen to entice you to make healthier choices.  Just as grocery stores play into our impulses by displaying brand names at eye level, we too can play into our own impulses by arranging our kitchen in a way that encourages healthy eating.
Redirecting Traffic
When looking for something to eat, out of habit, most people gravitate toward the pantry our cupboard instead of the refrigerator.  This is probably due to the fact that most people's pantries have surprises and "quick fixes," like carbs and crunchy stuff, while refrigerators often house food that requires preparation.  But think about it: most foods stored in the pantry are processed.  The fresh stuff is in the fridge.  So, let's create a healthy kitchen by redirecting traffic back to the refrigerator.
Make your pantry boring!  When arranging your shelves, continually stock up on the same items and put things where people know to look for them.  When my kids open the pantry, they won't expect to see a surprise stash of cookies and chips.  It's always the same stuff in the same place.
Yes, it's boring, and I do it intentionally!  If there were sweet surprises in the pantry, my family would go there first.  Instead, I use this place to store emergency foods and redirect traffic to the refrigerator where there is fresher, healthier food.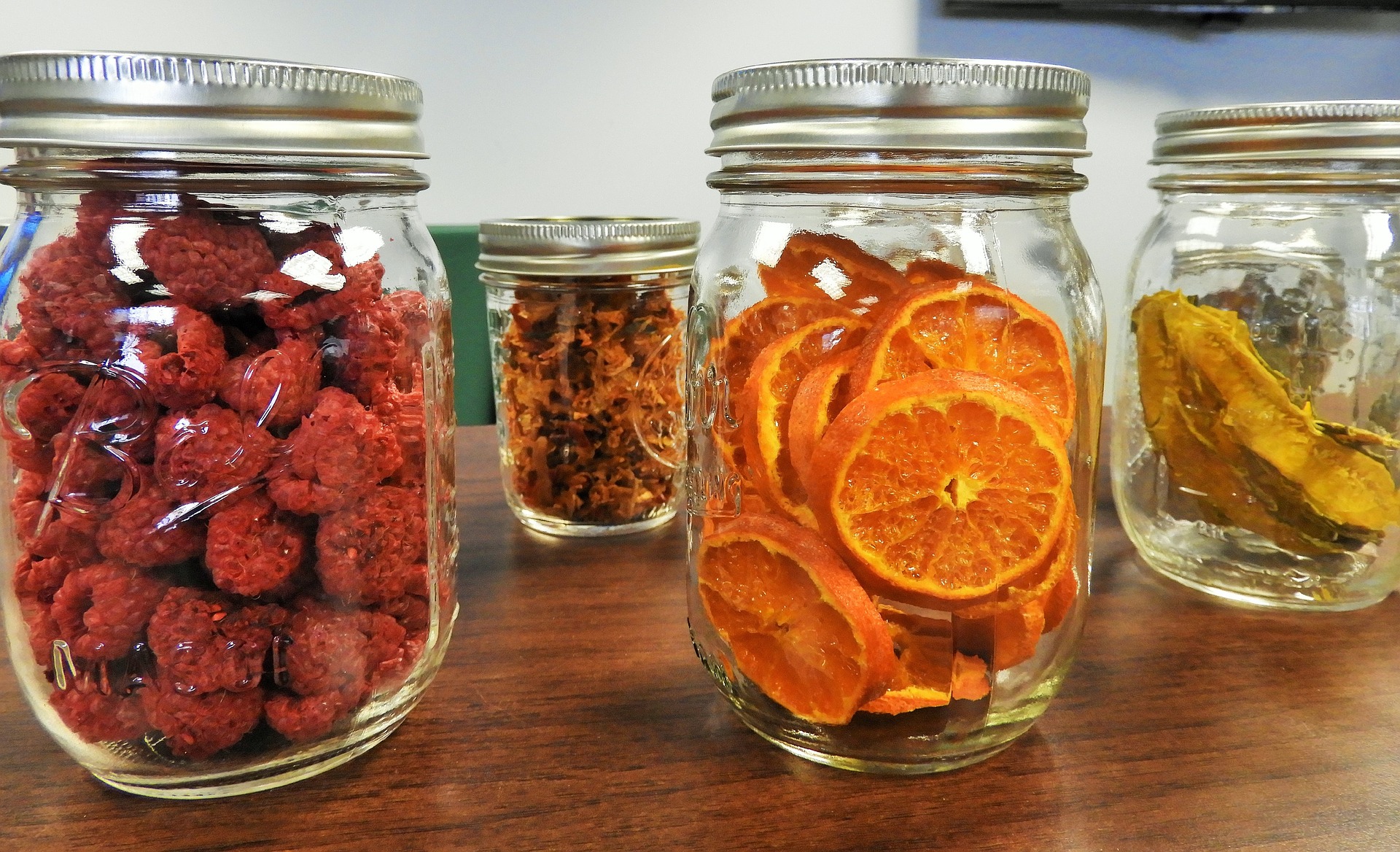 Arranging a Healthy Kitchen Pantry
Even though we want to direct traffic to the refrigerator, we still need healthy options in the pantry for those times when we do eat from there.  So, arrange the shelves in a way that creates healthier temptations.
Here are some guidelines:
Healthier foods go at eye and chest level, while the less healthy options go in the higher, hard-to-reach, need-a-step-stool places.
Repackage anything bought in bulk into individual serving sizes.  Nothing stays in its original container – this helps you avoid mindless eating.
Keep things organized and make the healthy stuff easy to grab.  Some healthy pantry staples: packets of raw nuts, protein cereal, and oatmeal, high-quality protein bars, dried fruit, Wasa crackers, protein powders, instant sugar-free cocoa, whole grain cereal, canned soups/beans, instant pre-cooked brown rice, bags of plain microwave popcorn.
Refrigerator Rules
When looking in the refrigerator for something to eat, we have the same tendencies as we do when checking in the pantry.  We automatically choose whatever "looks good" and takes the least amount of time to prepare.  So, think like a food marketer, and arrange your fridge in a way that makes healthy choices a no-brainer.
Avoid the "crisper" drawer.  You know, the drawer where you store the healthy stuff, like fresh produce?  Oftentimes, we put our produce in this drawer, and it ends up rotting before we even remember it's there.  Out of sight, out of mind.  Make sure you're showcasing healthy food. Wash produce in Eat Cleaner and put it on display.
As soon as you unload your groceries, wash and display fruit and veggies in clear plastic containers and bowls, and place them at eye level.
Keep sources of lean protein readily available as well.  Boil eggs, peel them, and store them in a plastic bag, so you can easily dice up the egg whites.  Pre-packaged tuna packets are a great, easy source of lean protein, too.
Replace regular staples with healthier options.  For instance, replace regular jam with sugar-free jam or blocks of cheese with individually packaged fat free string cheese.
Each of these suggestions is a small change that will take you one step closer to having a healthy kitchen, a healthier body, and a happier life!