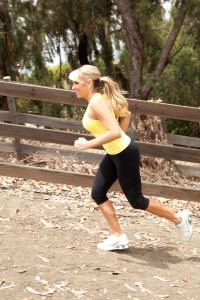 Getting you the body you deserve takes figuring out what style of fitness works best for you.  Ultimately, the exercise program that provides the best results is the one you'll do consistently and intensely.  For some, the best exercise program might be running and yoga, while a combination of swimming and strength training works best for others.  There's little benefit to prescribing a one size-fits-all exercise program, because you get the best results when you figure out what you'll stick to.
I could tell you what I think works for most people, but I genuinely believe you need to learn the most effective exercise parameters and then blend them into your own program.
Exercise Principles
In the study of exercise science, there are several universally held principles scientifically proven to provide optimal physical and mental health.  Phew, that made me sound super smart. I get like that when I talk fitness.  Let me backup and present this in understandable terms.
When I set out to create an at-home exercise program, I always start with science as my foundation.  Adding trendy, exciting components to an exercise program is simple, provided you let science be your guide.  These components can reduce to three basic fitness facts that your customized exercise program must include.  So, consider them as you create the workout plan that gets you to the body you deserve!
1. INDIVIDUAL DIFFERENCE 
Everyone is different.  One size does not fit all.  Individual variables that affect exercise include: age, weight, dietary history, genetics, medical conditions, injuries, and gender.  With this in mind, when I create at-home exercise programs, I spend a boatload of time developing options that include instructions for beginners, differing directives for athletes, and special considerations for those with knee and back issues.  Regardless of how many concerns I devote to individual variables, there is still a pretty good chance that the workouts might not be the right fit for every person who tries them.
Your exercise plan must take into consideration your personal fitness objectives and your unique variables.
2.  THE OVERLOAD PRINCIPLE 
The overload principle is a process of training that addresses how your body responds to change and incorporates exercises you must do to create improvement.  When the systems of your body take on more "load" (greater intensity, longer duration, or anything that's tougher, more stressful, or even just different from what you've done in the past), the body says, "In the event you do this again, we'll be ready!"  In other words, to improve your fitness, strength, or endurance, you need to challenge your body accordingly.   In order for a muscle (including your heart) to strengthen, gradually push it to work harder.  By working against a load greater than it is used to (via greater intensity, longer duration, or both) the muscles get challenged and rise to the occasion.
If change is what you desire, your regular exercise routine must be something that is tougher, longer or more challenging than what you are doing right now.
3.  ADAPTATION AVOIDANCE 
Adaptation refers to the body's ability to predict what's coming next.  Your magnificent body adjusts intuitively to meet increased or decreased physical demands.  So doing the same exercise, or practicing the same skill or physical activity, makes it easier to perform.  To avoid experiencing adaptation, you can add elements, expand duration, increase intensity, and generally create a change of intensity or duration every 30 days.
Change elements of intensity, duration, or overall challenge in your regular program to avoid exercise adaptation.
Consider these 3 components when creating your exercise program.  Using these components to your benefit will just help you get to the body you deserve faster and more efficiently.
Don't forget to leave me a comment or question below! And don't be shy! Click the Pin it button below and share this post.