Are you stuck?  Have you been working out hard and seeing results, but all of the sudden, you can't seem to get the scale to budge?  You may have reached a fitness plateau.
After many, many years of teaching fitness classes and personal training, I've had numerous people come to me with this problem.  "But, I'm doing everything right," they say.  "I'm eating healthy and working out.  It worked before.  Why isn't it working now?"
How to Overcome a Fitness Plateau
Well, there are a number of reasons why you hit plateaus in your level of fitness and there are also a number of things you can do to break through them.  The key to overcoming them (and #1 on my list of ways to break through a fitness plateau) is getting real with yourself.  It's time to take a closer look at what you're REALLY doing, discover the reasons why you've hit a fitness plateau, and figure out a way to overcome it.
#1 – Get Real
You may think you're eating healthy, but if you take a closer look and start keeping track of EVERYTHING you put in your mouth, you might find that you're not eating as healthy as you think.  80% of your results are based on your nutrition, and only 20% is based on the exercise you do. If you want to see changes, pay close attention to what you're eating, write it down, and aim to eat clean at least 80% of the time.
#2 – Know Your Numbers
You can't make progress if you don't have an accurate understanding of how many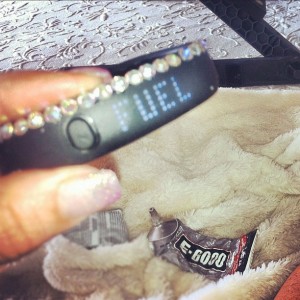 calories you burn each day and how many you can afford to take in.  Everyone's metabolism and daily calorie burn is different based on a variety of factors such as your age, height, and the amount of muscle you have.
While there are many websites that will help you calculate your metabolic rate and the amount of calories you should be consuming, the most accurate way to find out and keep track is with a calorie-monitoring device like a My Zone, Fit Bit, or an Apple Watch.
#3 – Track Your Calories
If you eat it, write it down… every last bite!  Yes, even that handful of pretzels or the last few bites of your kid's meal you finished off.  Everything counts!  Oftentimes, when people hit fitness plateaus, it's because they think they're eating healthy but are actually overlooking calories.
In my opinion, the best place to keep track is on your phone because it's with you all the time.  There are also many smartphone apps available that can help you do this.  Some favorites include My Fitness Pal and Lose It.
#4 – Build Muscle
The more muscle you have, the more calories you burn when you exercise and at rest.  On a side note, there's a myth out there that muscle bulks women up, and it's not true.  Women simply don't have the hormones to bulk up – they just get leaner and become calorie-burning machines!
So cardio junkies beware!  Yes, you might burn more calories during your workout when you do cardio than when you do a strength-training workout.  However, consistent strength training will enable your body to burn more calories all day every day.  People hit fitness plateaus when they don't incorporate enough strength training.  Add this in, and you'll be amazed at the difference it makes.
#5 – Change it up
Our bodies have an incredible ability to quickly adapt to whatever we do.  If you continually do the same workout, your body will adapt and the workout will no longer have the same effect.  By changing up your workouts, you can change your body.  Cross train and try different workouts.  Kick your soulmate workout up a notch by adding something new like high intensity intervals or weighted gloves.
#6 – Avoid Creating too Much of a Deficit
When people hit fitness plateaus, they often keep cutting calories and get frustrated when they still do not make progress.  One thing many people aren't aware of is that you can actually damage your progress by creating too much of a deficit between your calorie intake and calorie burn.  When your body isn't getting enough calories, your metabolism can slow.  If you've tried everything else, and still aren't making progress, consider adding a few more healthy calories back into your diet. For more info- check out the 131 Method.com.