Everyone knows I'm a smartphone fanatic and addict.  With all of the technology and applications out there, it's amazing what you can do to better organize your life and reach your goals just by using your phone.  Typically, I share ways to use your phone to keep your to-do list and be more productive, but today I want to share with you five of my top ten ways to lose weight and maintain healthy results using your smartphone.  (Be on the lookout for tips six through ten next week!)  Think about it: you look at your phone all day anyways… why not use it to empower your weight loss journey and maintain good health?  Start using your phone to reach your health and fitness goals today!
1. Take pictures on your phone to track your progress.
Almost every phone has a feature that allows you to take photos.  Use it to take a before picture as you begin your weight loss journey as well as to track your progress along the way.  These pictures are worth a thousand words.  Pictures tell a story that can't be told by the scale, and they're a great way to see your progress, keep yourself accountable, and stay motivated.
Many people don't take before photos because they don't want anyone else to see them.  However, most phones have an option to "hide" or "store" photos.  This way, you'll never have to worry about anyone seeing it but you.
But wait!  Before you start snapping away, a quick tip: PLEASE don't take your before photo in your underwear!  Do NOT take your photos in your holey "I need to replace these" bra and underwear or granny panties.  While you might not plan on showing them to anyone now, the day will come when you're all ripped up, and you WANT to show everyone your amazing results.  Nobody wants to see those pictures if you're wearing underwear you've had since high school.  Wear a bathing suit people!
2. Use Instagram as a source of motivation and accountability.
Instagram is an incredible source that can help you lose weight and maintain your results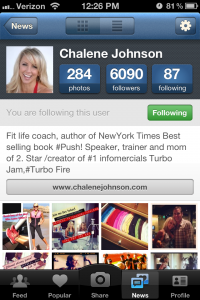 by connecting with people with similar interests.  There are so many people on Instagram that post healthy recipes, motivational sayings and photos, and track their progress.  You can also share your own photos with the Instagram community for support and accountability.  How do you find these people?  Stay tuned for Part 2 of "Lose Weight with Your SmartPhone" for ways to connect with people on Instagram who share your interest in health and fitness.
3. Use your smartphone to take a picture of the number on the scale each time you weigh yourself.
People often weigh themselves and forget that they're making progress.  The number on the scale doesn't always have to go down, down, down for you to be making progress.  Instead, it should be a general downward trend.  Your weight fluctuates anywhere from one to five pounds each day due to many different factors such as the amount of salt in your diet, your digestion, muscle soreness, etc.  Take a picture of the scale to remind yourself that you're making progress and to stay motivated.
4. Use smartphone applications to keep track of your calories.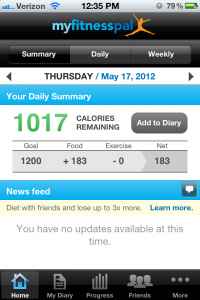 Studies show that people who keep track of their calories are far more successful in losing and maintaining their weight than those who don't keep track.  Use one of the many calorie tracking apps out there to keep count of how many calories you're consuming.
It's like balancing your bank account… How would you know how much money you need to save or how much you can spend without knowing what's in your bank account?  This number is important – so is the number of calories you consume.
By entering the number of calories you consume as you go about your day and having a general idea of what you've consumed and how much more you can afford to eat, you will make better informed decisions.  My favorite calorie tracking app is My Fitness Pal.  Livestrong's Calorie Tracker and Lose It are great apps to check out as well.
5. Use the Fit Radio app to create playlists that keep you going.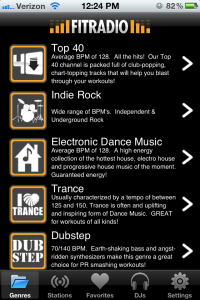 Fit Radio is a game-changer!  It's a free application that creates killer playlists to use during your workouts.  All you have to do is select a genre, and the app will automatically create a playlist with the latest music of that kind.  The nice thing about it is all the songs on your playlist will be the same beat per minute.  This way, you can keep moving at the same pace.  If you're looking for music to motivate you through your entire workout, you have to download Fit Radio!
*Don't forget to check back next week for Part 2 of "Lose Weight with Your SmartPhone" for tips six through ten!