It's FIT FOOD Friday, so today I wanted to share with you some of my go-to healthy brands! First things first: not every brand is available in every market. In fact, some of the items I've listed below I learned of, not via a trip to the market, but through a tight-knit group of supportive friends on Facebook! Social media is a great place to learn about new products and brands that haven't made their way to the big retailers' shelves but that calorie-conscious folks love to share among themselves.
Several of these healthy brands I order from the manufacturer's' website in bulk. They are staples in my house! And now, like a little secret handshake, I share them with you!
PEANUT BUTTER
PB2 Powdered Peanut Butter. Powdered peanuts with a touch of salt, and that's it! You mix it with a little water to form a peanut butter paste; which in all honesty doesn't taste much like the real deal. However, for recipes, desserts and protein shakes…two words: I DIE!!! It's the bomb! You can order this directly from the manufacturer or find in some health food stores (www.bellplantation.com). What's awesome is this comes in a Chocolate version too!! So it has the addition of cocoa-bean powder.
Better'n Peanut Butter. This stuff is much lower in fat and calories than traditional peanut butter, but certain all-natural ingredients make the consistency a bit sticky. I like it. My sister LOVES it. Is it the perfect food? No. But it's far better than loading up on all the fat from regular peanut butters. This one is available at most major grocery chains. (www.betternpeanutbutter.com)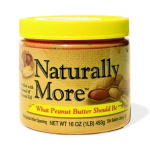 Naturally More. I love the taste and the texture the flax seeds add to this peanut butter. The best part is they've taken peanut butter and made it more than just a fatty spread with a little bit of protein. This recipe is enhanced with good stuff like omega-3 fatty acids, 25% more protein, 50% more fiber and far less fat! You can find it at most retailers or online at www.naturallymore.com.
BREAD/CARBS
I gotta admit, even I – the everything in moderation girl – have been virtually scared straight of consuming carbs. Good carbs, bar carbs, complex and simple carbs. The bottom line is I like things that crunch, and there are days that I long for good old-fashioned bread.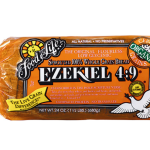 Ezekiel 4:9 Organic Sprouted Bread. Delicious, but must be kept in the freezer. Can be found at the most grocery chains and health food stores. (www.foodforlife.com)
110 calorie 100% whole-wheat bagels. I call these skinny bagels. You can eat them toasted or not, but be prepared for an extra crunchy bagel if you do decide to toast them. Let's face it, they're not the thick, bready bagel you might be used to, but you need some options and this one is great!
Want MORE healthy tips from me!?  Head to the 131 Method!
~ Chalene