As I promised last Friday, here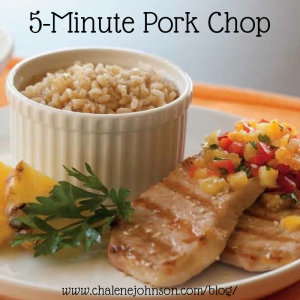 is another featured recipe from my New York Times Best Selling Book Push: 30 Days to Turbocharged Habits, a Bangin' Body, and the Life You Deserve.  This Throw-and-Go recipe is for 5 minute pork chops!  Yes, I said 5 minutes!  And the great thing about this recipe is it makes 4 servings, so you can use it to pre-portion out your meals for the week.Get more amazingly healthy recipes here.
Ingredients:
¼ cup + 2 TBS natural honey
3 tablespoons soy sauce *Low Sodium and if possible, Gluten Free*
4 cloves of garlic
4 (4 ounces each) pork loin chops, boneless, trimmed of excess fat
Brown rice
Directions:
Mix the honey, soy sauce, and garlic in a bowl.  Toss the honey mix and pork into a reasonable plastic storage bag and allow the meat to marinate several hours before cooking.  Throw all four chops on the George Foreman, or whatever grill you have at home.  Cook three chops, yes I said three, for four minutes.  I'm going to recommend to undercook these three just slightly so that when we warm them later in the week, they'll stay moist and not be overcooked.  Keep the 4th chop on the grill for a total of 5 minutes.
While you cook the 4th chop, we're going to handle the rice.  I recommend going with a pre-cooked brown rice that just needs to be heated up in the microwave.  Here are a couple good go-to brands to try: Uncle Ben's and Trader Joe's.  So put your rice in the microwave and heat for the recommended time.
Once the rice is done, put ½ cup on your plate and portion out the rest into Tupperware for future meals.  Place your fully cooked pork chop on top and enjoy!
This recipe makes 4 servings.
Per serving: 384 calories, 28 g protein, 47 g carbohydrates, 9 g total fat, 1 g dietary fiber, 56 mg sodium. 
*TIP: Want to add more fiber to this meal?  Swap out the brown rice for 1 cup of Quinoa.  This will up the dietary fiber to 5 grams!
Let me know how you like this pork chops recipe in the comments below!  And don't be shy! CLICK Pin it below and share with your friends.
~ Chalene