Here's a throw-and-go recipes from my New York Times Best Selling Book Push: 30 Days to Turbocharged Habits, a Bangin' Body, and the Life You Deserve! I love a protein shake when I'm in a hurry.  Protein in the morning has been shown to help regulate blood sugar levels and its slower absorption rate helps you feel satiated longer.  This Chocolate Covered Strawberry Protein Shake is ridiculously easy, and incredibly delicious!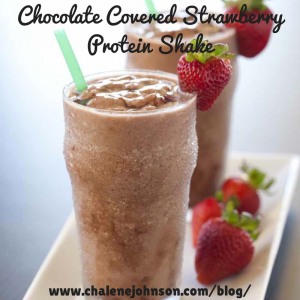 Chocolate Covered Strawberry Protein Shake
Ingredients:
1 scoop chocolate protein powder  *Make sure to read the label to see what the serving size is*
1 cup of water
1/2 cup almond milk
1/2 cup frozen strawberries
Directions:
Toss the protein powder, water, milk, strawberries and ice (optional, the frozen strawberries will make the smoothie cold, but you can add ice to taste as well) into your blender.  Blend from medium to high.  Pour into a glass or travel cup and enjoy!
This recipe makes 1 serving.
Per serving: 190 calories, 17 g protein, 26 g carbohydrates, 2 g total fat, 5 g dietary fiber, 86 mg sodium.
Don't forget to let me know how much you enjoyed this Chocolate Covered Strawberry Protein Shake recipe by leaving a comment!  Also, don't be shy! Click the Pin it button and share the love!
~ Chalene