These stability ball exercises take you through four exercises using an awesome piece of equipment, the stability ball!  What's great about these 4 exercises is that they require the body to multitask.  Meaning they will challenge and strengthen your entire body!  I recommend doing 15 to 20 reps of each exercise, and for the exercises that alternate sides, complete 15 to 20 reps on each side.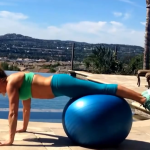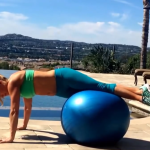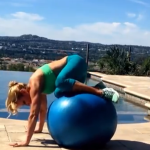 Exercise 1
Begin in a push up position with the ball under the shins.  Palms are flat on the ground, and your back is straight.  Rotate the hips slightly to engage the obliques, then draw both knees into the chest.  Once you've done 15 to 20 reps on one side, bring the hips back to the starting position, then rotate slightly to the other side.  Then do 15 to 20 reps on that side.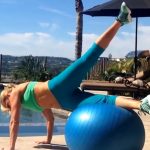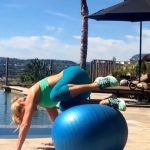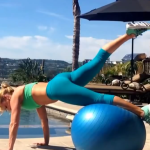 Exercises 2 and 3
This is a progression, meaning it is more difficult than exercise 1.  This variation requires more balance, core strength, and upper body strength.  For exercise 2, as you extend the legs out, you lift one leg off of the ball.  Do 15 to 20 reps on each side.  From there you can progress to exercise 3 where you'll alternate lifting the leg.  Completing 20 reps total.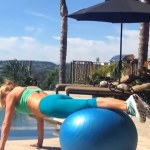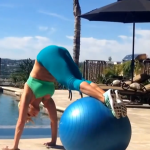 Exercise 4
The pike.  Stay in the push up position and place the ball under the shins.  Draw the ball towards your arms keeping the legs straight.  This exercise requires a lot of upper body strength and wrist flexibility. So, don't get discouraged if you find you can only do a couple.  Helpful tip…to regress this exercise, start with the ball more under the knees or thighs.  As you get stronger, you can progress by placing the ball closer and closer to your ankles.
Stability balls are reasonably priced, usually about 15 to 20 dollars, and can be purchased at a Walmart, Target, or sporting goods store.
Let me know how much you enjoyed this stability ball exercise workout by leaving me a comment!  Also I'd love for you to share this post by clicking the Pin it button below.  For the full video of these 4 exercises, visit my youtube channel by clicking HERE!
~ Chalene