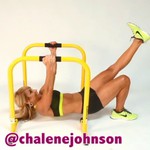 When it comes to working out at home, variety is the key. If I'm bored…my intensity and enthusiasm tends to be low. If it's unique, creative and effective…I tend to place more focus on the fun factor of figuring things out as opposed to clock watching. Lately, I add variety using equalizer bars by Lebert Fitness. So  Much. Fun!!
This post contains an affiliate link.
I'm always looking for cool new fitness toys. While plenty of people send me stuff, when it comes to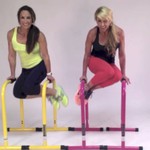 investing my own money, I look for multifunctional equipment. Multifunctional equipment means that you can perform cardio, strength, stretch and more with the equipment. I definitely put TRX, Bosu, and one of my favorites the Lebert Fitness Equalizer Bars (use promo code CHALENE20 to get 20% off your purchase) in that category.
True confession….I originally was drawn to these bars because they simply look crazy cool. But my love goes far beyond the color and wicked cool design. Which is why I have since made this my go-to birthday gift for my fitness friends!
You'll be Hooked Too
Every time I post a workout clip and people see the Lebert Fitness Equalizer Bars…we get flooded with questions, "What are those bar things," or "Where can I get those equalizer bar things?" The equalizers include a set or two individual bars that kind of look like hurdles with padded handrails. Each bar weighs about 8 pounds. Now I often suggest that many of the exercises I perform on the equalizers could be replicated with items you might find around your house (which is true). But there's no denying the fact that these bars have been designed to independently support up to 400 pounds. And that's reassuring.
Perhaps my favorite way to use the bars is to save my knees! Some days my knees and feet need a break but I still want to work my legs and even get some plyometrics in, without the force.
Some of my favorite uses are supported jumping lunges (great for if your doing a HIIT workout), pull-ups (increases core strength), and in combination with other pieces of equipment such as TRX to work challenge the whole body!
And if you're interested in getting your own set, just CLICK HERE and use my promo code CHALENE20 for 20% off!
Want more great tips and resources on improving balance, energy, organization, health fitness, relationships, focus, faith and happiness? Each episode of my podcast, The Chalene Show is designed to give you strategies and simple steps you can implement today to become a better, more balanced, happier version of yourself. LISTEN NOW!
Check out  More Workouts:
Connect with Chalene:
Facebook: www.facebook.com/chalene
Instagram: www.instagram.com/chalenejohnson
Pinterest: www.pinterest.com/chalenejohnson
Twitter: www.twitter.com/chalenejohnson