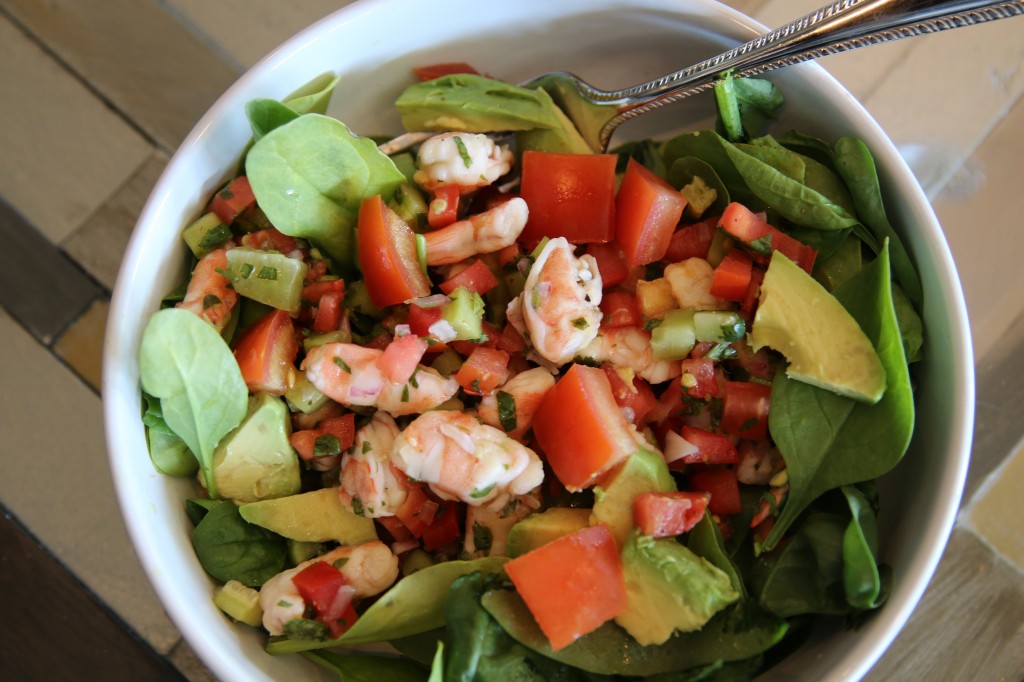 Summer is a great time to enjoy ceviche!  So for this fit food Friday, I wanted to feature my favorite healthy ceviche recipe.  Served chilled, this citrusy, refreshing twist on seafood not only tastes amazing, but it's easy on the waistline.  Ceviche typically consists of raw seafood that "cooks" in a citrus marinade.  If this makes you uneasy, you can poach the shrimp before putting them into the citrus marinade.  However, know that the taste will not be same.
Check out a few of our other recipes that contain avocados and tomatoes!
Ingredients
2 pounds of raw shrimp – cleaned, deveined and cut into thirds (21-25 per pound)
10 medium firm roma tomatoes – diced
5 mini cucumbers – peeled and diced
1 medium red onion – diced
1 bunch cilantro – finely chopped
2-3 jalapenos – seeded and diced
1/2 cup or so of lime juice
2 tablespoons of red chili flakes
Directions
In a hot frying pan, lightly toast red chili flakes for about 45 seconds.
In a blender, blend together: lime juice, toasted red chili flakes, jalapenos, salt and pepper to taste.
Place cleaned and cut shrimp in a bowl add lime juice mixture cover and let sit for about 20 minutes or until shrimp turns pink.
In a separate bowl combine cilantro, onion, tomatoes and cucumber.
When shrimp has turned pink drain about half of the lime juice from bowl and combine with the veggie mixture.
Serve with fresh avocado, eat with chips or over a salad.
Serves anywhere from 8-12 people!
What's your favorite ceviche recipe? We have a few (including a vegan version) inside the 131 Method.
Hope you end up loving this ceviche recipe as much as I do! If you try it out, don't forget to leave me a comment and let me know how you liked it!
Know someone that needs a little more fit food in their life?  Please share this post with them.  Or, send them over the 131 Method blog for hundreds of free recipes!
~ Chalene