I often talk about reaching goals, making a plan, staying focused and on task, and creating balance.  Each of these things is a really important part of creating the life you want and deserve, but part of having a balanced life is also having time for FUN!  After all, what's the point of working so hard if you're not going to allow yourself time to play and really enjoy life?  In my companies Powder Blue Productions and Team Johnson, we strongly believe that having fun is an important part of what we do.
Everybody Needs to Have Fun at Work
When we enjoy what we do and the people we work with, our lives become so much more fulfilling.  That's why my husband Bret and I are very careful about who we bring into our offices.  We're a super-fun, drama-free group of people, and we really try to protect this environment we've created.  We work hard and accomplish a lot, but we're also a happy bunch – I think this is due to the fact that we make it a point to have time for fun.
Not Your Typical Office Christmas Party
For example, our Christmas parties are far different from your typical office party.  Rather than doing the whole dinner and drinks thing in a suit or cocktail dress while making awkward conversation with people from work you barely know, or having one drink too many and embarrassing yourself in front of your boss, why not use your office Christmas party as an opportunity to try something new, bond with your coworkers, and really have fun?   Think about it, not everyone wants to get drunk with the person in the cubicle next to them.
Our Christmas parties are definitely unconventional, but we all have a blast!  Follow along with me as I share with you our 2011 Christmas party – you just might get some ideas for your party next year and how you can have a little more fun at work…
Here We Go!
The day before the party, we didn't tell our staff where they were going, but we did tell them what to pack for the day. They needed four outfits:
#1 – Something you might wear if you were to run away and join the circus
#2 – Your best race car driver outfit
#3 – Geeky workout wear
#4 – "Normal" going-out-to-eat clothes
I'm sure you can just imagine what we had in store for them!!
At 9:15am, we all met at the office and packed into a party bus in outfit #1.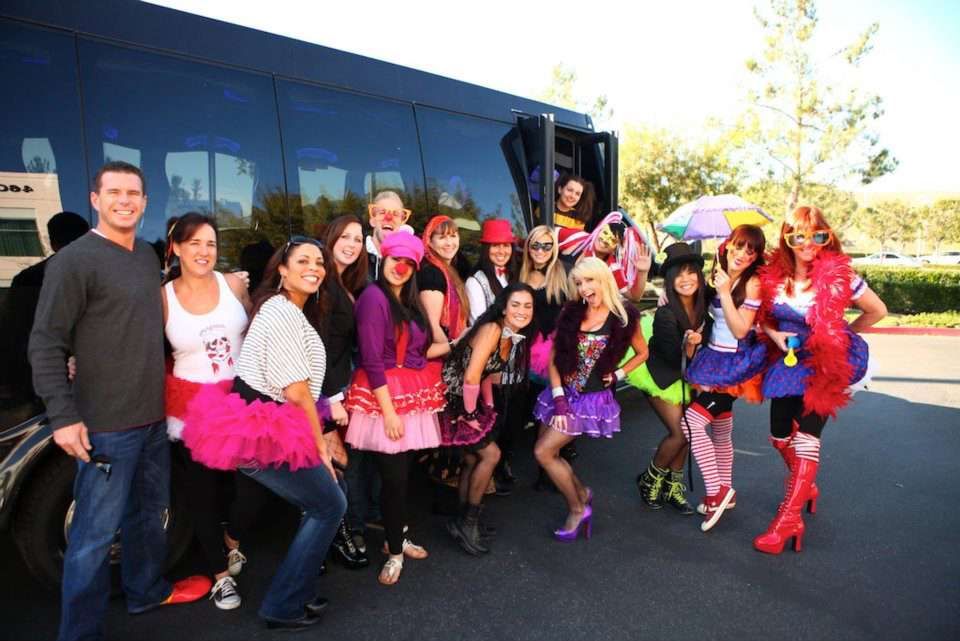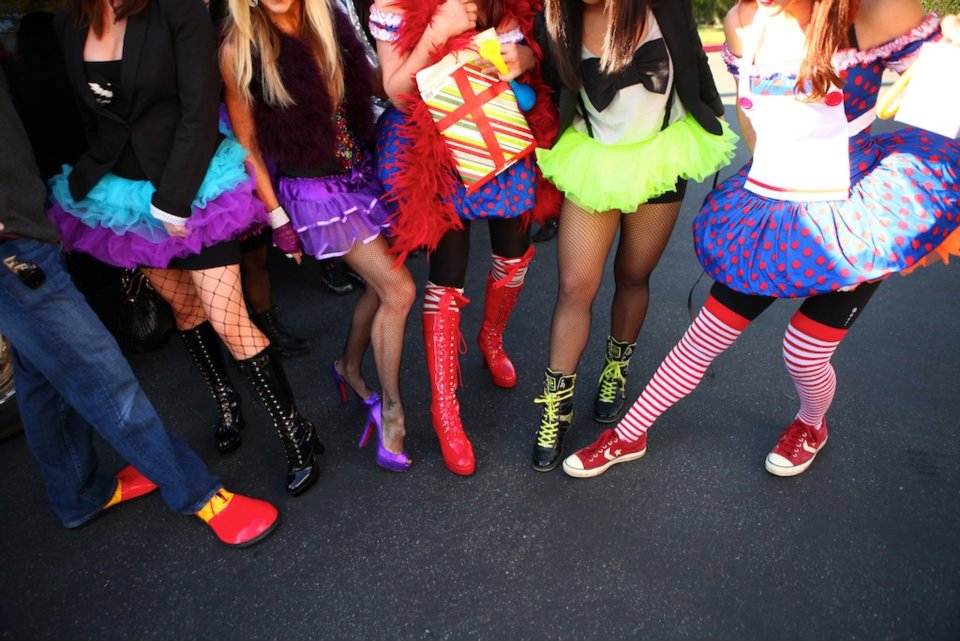 We share a love for crazy shoes!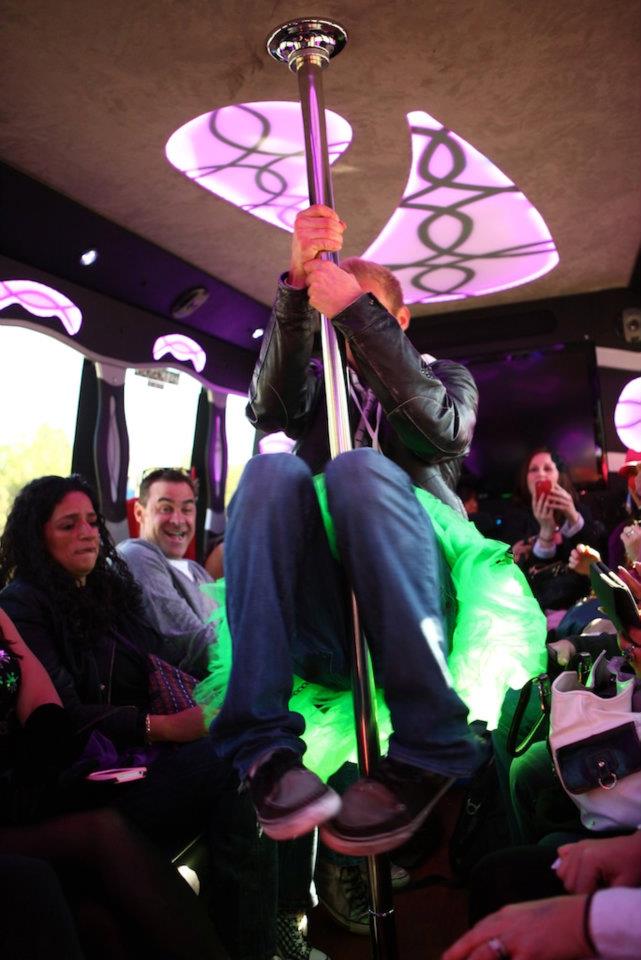 There just so happened to be a pole in the middle of the bus.  Of course, we made the most of it – no alcohol necessary for this crew to have fun!
We Could Totally Join the Circus
Our first stop was at a dance studio that holds aerial classes.  We got twisted up in sashes, hung upside down, and spun in hoops.  We had to be the best group the studio ever had – we would totally fit in at the circus!
Get Out of Our Way
Next stop: the speedway!  We had a blast at go kart racing.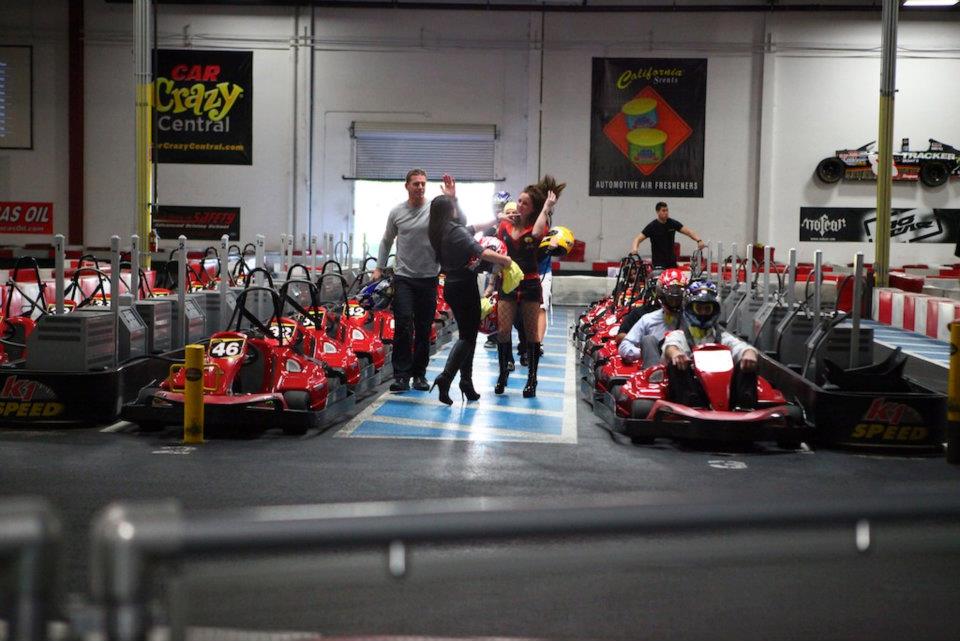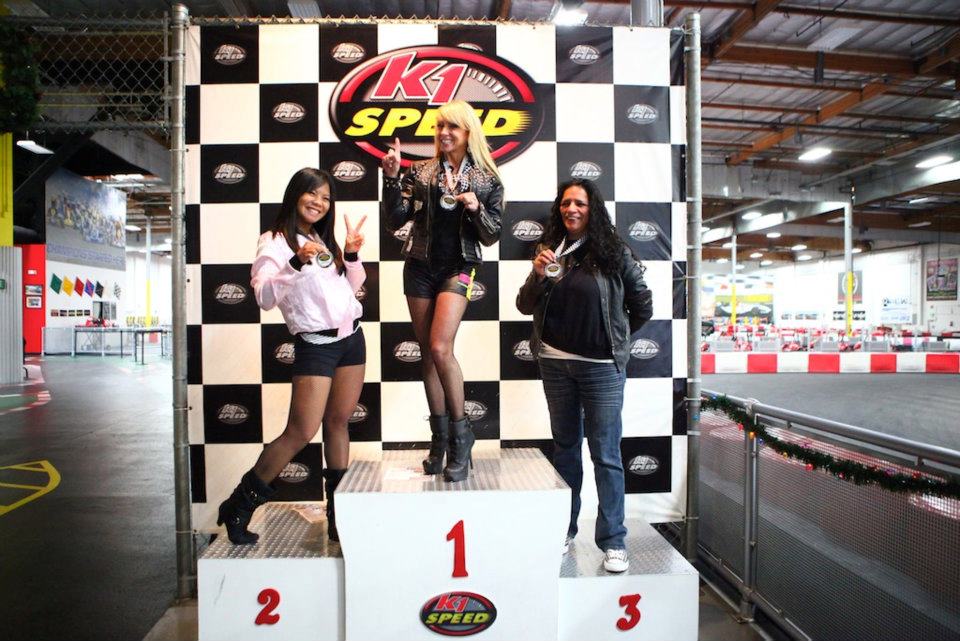 Our group is just a little bit competitive – who would've thought?!
Team Dodgeball
Our "geeky" workout outfits were for a serious game of dodge ball.  But this wasn't just any kind of dodge ball, this was dodge ball on a trampoline!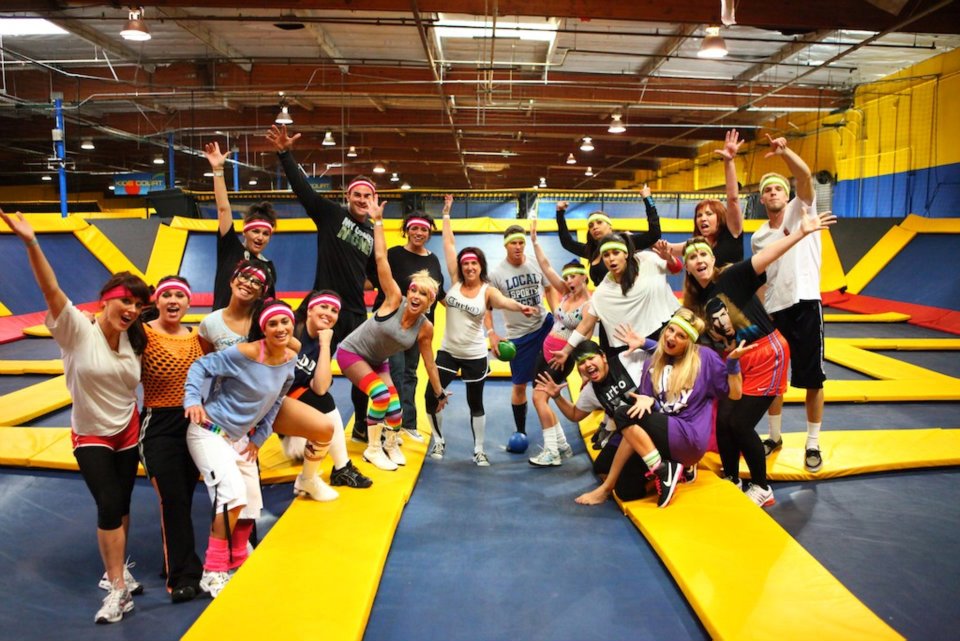 After all that Activity, We Needed Fuel
Over dinner, we recapped the day, took time to learn more about our coworkers, and showed our appreciation for one another.  We took turns answering questions like "Who is your alter ego?" and "What's one thing no one here knows about you?"  We talked, laughed, and even shed a tear or two during our toasts in celebration of another awesome year together.  What a great way to end 2011 with a wonderful, hard working, and FUN group of people!