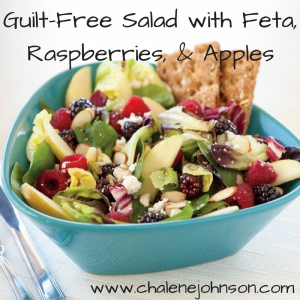 This salad is a great Throw-and-Go recipe from my New York Times Best Selling book Push: 30 Days to Turbocharged Habits, a Bangin' Body, and the Life You Deserve!  My Throw-and-Go recipes are what I eat about 80% of the time and I think you'll like how they complement your on-the-move lifestyle.  The purpose of these recipes is to provide you with a healthy meal that can be made in about 5 minutes, packed and ready to go! In the directions, I explain how to make it as though you're taking it to work. Everything gets packaged separately, and when it's time to eat, you toss it all together. Kick diets to the curb and start enjoying diet freedom with healthy recipes, like this one.
Guilt-Free Raspberry, Apple and Feta Salad
Ingredients:
1 Fuji apple
1/2 cup of raspberries
1/2 cup of blackberries
1/4 cup crumbled reduced-fat feta (can be removed if you don't do dairy)
3 cups of a prepackaged 3-lettuce blend
1 cup of fresh spinach
1/4 cup of crushed almonds
Directions:
Crush the almonds directly in the bag from where you purchased them.  Dice up the apple; don't worry about it being all cute! Toss the apples, raspberries, and feta into a small plastic bag.  Throw your lettuces and spinach into a to-go container. Wrap the nuts in a separate foil pouch to keep them fresh. Packaging everything separate and assembling right before eating is what helps keep this salad fresh and crisp!
When your ready to eat, toss the lettuce with the fruit and feta. Then sprinkle the almonds on top.  Where's the dressing? Between the fruit and feta, the salad is very moist and you won't miss the dressing…Trust me!  Feel free to add some freshly ground black pepper or a low-fat dressing if you need to.  My recommendation is to save yourself the unnecessary calories and enjoy the salad as is! I hope you enjoy this Throw-and-Go recipe!
(366 Calories, 16 g Protein, 48 g Carbohydrates, 7 g Total Fat, 13 g Dietary Fiber, 517 mg Sodium)
Let me know in the comments what you think of this yummy Raspberry, Apple and Feta Salad! For more easy and healthy recipes, check out the 131 Method!
– Chalene