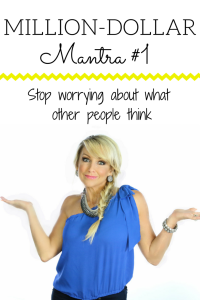 This week is dedicated to million-dollar mantras.  The mantras I choose to live by!  I know these will help you live a more balanced and happy life. Don't forget to leave me your questions and comments below. Let's learn to stop worrying about what other think!
Million-dollar mantra #1: Stop worrying about what other people think!
If you're doing what's right… your intentions are good and they are well thought out, you don't need to spend an ounce of your energy worrying about what other people think; much less trying to convince people or win other people's approval. If you know in your heart that you are doing what is right, if you're intentions are pure and you're worrying about what other people think, then you are not living according to your own rules.
I mean… don't forget that most people, generally speaking, are pretty negative and other people's negativity typically isn't personal. Most negative people are negative, not just to you but to just about everybody and to be completely honest, it's how they get a response from people, it's how they make themselves feel important. And even when the situation does seem personal, even if someone is insulting you directly, it usually is less to do with you and a lot more to do with them.
Them, Not You
Other people's opinions are 90% of the time based on their own self-reflection. So rather than worrying about pleasing people who quite frankly will never be happy or be happy with themselves, just be you and live according to you! Stop working so hard to please these people… make me a promise, make yourself a promise to just do what's right.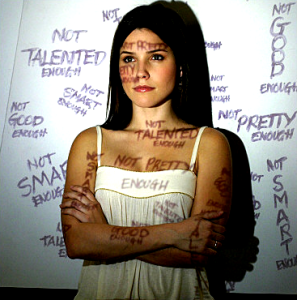 Know what your intentions are… be pure about that and be honest with yourself and treat other people the same way you would want to be treated. Of course apologize if you hurt someone and especially if you know that you did something wrong. Apologize and move forward.
Don't spend a moment thinking about other people's opinions of you if you know you're doing what's right and you're doing not only what's right for you but what's right based on your principles and in accordance with the way you want to live your life.
Spend Time with What Matters
Promise to spend far less time on people who spend all of their time criticizing others. Be aware and be careful not to spend too much time or energy on people who are stuck, who aren't doing much. They don't have the type of integrity, priorities and persistence and the direction that you have.
Remember, it's okay to laugh at your mistakes because you're going to make them. So don't worry about people pointing them out for you, don't worry about perfection. There isn't a perfect person, there's so much more power in humility and there's great courage that can be found in vulnerability and why do I say that?
Because you've got to be open to whom you are and the progress that you're making and that sometimes means being vulnerable and it's difficult to be vulnerable if we're always worried of what other people think.
Self-Esteem
If you show me someone who's consumed with what other people think, I will show you someone who's stuck. They are typically uncomfortable to be around. They are difficult to connect with and they are certainly not very inspirational. We are all human, and it's really hard to do good things if you don't feel good about yourself. Even if you're perfect in every sense of the word, there is going to be a handful of people that will still find fault with you, period, end of subject. And no place is that more obvious than on Facebook.
I have to admit that from time to time, I get distracted by this too. Our brain can zero in on negative comments and negativity. My friend Dr. Mcayla Sarno says, "the reason why this is, is not because we're necessarily attracted to negative but we look for negative as a way to protect ourselves" in other words, our brain looks for danger, our brain looks for things that makes us susceptible and because of that our brains are conditioned to notice negative.
No Negative Platforms
It's one thing to notice negative, it's quite another to engage in it and to give it energy. So, from time to time I'll have a thousand really positive comments on Facebook, and then one negative comment from just one person. And not only will I find myself wanting to engage with this person, but I'll see everybody else starting to engage with this one person, which as you can imagine, gives it legs. And then the conversation turns from whatever positive thing we were talking about to a negative debate. Don't give negativity a platform and don't give it energy.
And the same is true of those people in our lives who do the same thing. They want to disagree with you, they want you to feel judged; basically they just want attention from you, even if it's negative attention. Well, don't give it to them because when you give it to them, it just grows stronger.
Promise me that in the next 12 months, you'll recognize that negative energy grows when you give it attention. So take a deep breath, delete it, dismiss it and just ignore it. Stop worrying!
Don't forget… I love ya! I believe in you!  You are the bomb-dot-com and thank you for reading.  Leave me a comment and tell me what you think about this post!
~ Chalene
There's a lot of talk around town about my latest program, The Courageous Confidence Club.  I would love for you to hear what other people are saying about this program, just go here >> Courageous Confidence Club.  One thing I've learned is that even with all the answers, if you don't have confidence, you won't progress forward.  That is why I've made it my mission, my push goal, my purpose this year to help 10,000 people build their confidence.