(For Part I of this article on relationships and business, click here.)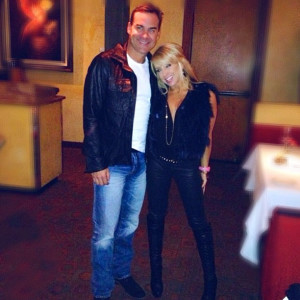 (Part II of II) – It's an incredible thing to be able to work with your partner at a business or something you're passionate about.  I know when my husband Bret and I went into our business together, our lives totally changed.  While it's not for everybody, and it requires a lot of work, successfully running a business with your partner or spouse can be a great experience. If you want to have a strong business with your significant other, or even if you just want to get your other half on the same path and build a stronger relationship, below are a few things Bret and I have done that have enabled us to do so! After all, it's your relationships that make you happy – not money, not material things.  Your relationships are everything.  Why not spend more time working together with the person you love most?
Working with Your Partner: Part I – Tips 6-11 for Building a Stronger Relationship in Business and Life
#6 – Give yourself a vocabulary makeover.
If your goal is to spend more time working together with your partner, you have to remember that one person is not the boss.  Pay attention to how you speak about your business.  Do you refer to it as "MY business" or "OUR business"?  When Bret came over to help me in the business I was previously running myself, I kept calling it "MY company" without realizing how it made him feel.  I made him feel as if he was working FOR me, not with ME.  Really, we were in it together, and I had to change the way I communicated.  Give yourself a vocabulary makeover.
#7 – Get a couple hobby.
Find something you both enjoy doing together and get excited about.  For Bret and I, some of those hobbies include working out together and snowboarding with our kids.  Rather than leading your lives separately and regularly going out with the girls or the guys, find a couple hobby or do things with other couples.  The more you do together, the stronger your bond will be!
#8 – Allow your worlds to collide.
Take an interest in what interests your partner.  What area of your partner's life do you need to get more involved in?  They're probably talking about it a lot, but you might not be showing much interest.  Next time they do something that pertains to this interest, ask if you can join them or come along.  Learning more about your partner's world will bring you closer together.
#9 – Invest in an expert. 
Your perspective on life is different from your partners.  Even if there are no major problems, bringing in a third party, objective person can help you get on the same page and head off issues before they even become issues.  We don't always hear what the other person is saying the way they truly mean it.  We can all become better communicators, and seeing an expert will help you do that!
#10 – Be 100 times more patient.
If your partner is trying to help you or be a part of your business, you have to have patience.  If you ask them to do something, don't criticize how they do it, and try not to overwhelm them with information when they first start.  They probably don't need to know every little detail of what you do.  Instead, identify the most important things for them to know about what you want to get them involved in and be patient as they learn it.
#11 – Create a relationship mission statement together.
Ours is "We play for the same team." Creating a relationship mantra or mission statement together will bring you together.  When a decision or opportunity presents itself, whether you agree on something or not, you can make the right decision together based on your mantra.
Overall, communication is key.  When you can communicate what it is you want and need, everything else can fall into place!
There ya have it! My top tips to working together with your partner or spouse!