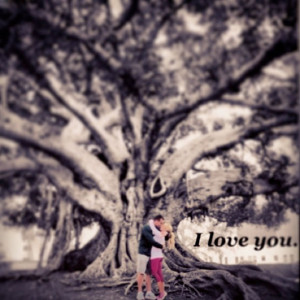 (Part I of II) – It's an incredible thing to be able to work with your partner at a business or something you're passionate about.  I know when my husband Bret and I went into our business together, our lives totally changed.  While it's not for everybody, and it requires a lot of work, successfully running a business with your partner or spouse can be a great experience. If you want to have a strong business with your significant other, or even if you just want to get your other half on the same path and build a stronger relationship, below are a few things Bret and I have done that have enabled us to do so!
Working with Your Partner: Part I – Tips 1-5 for Building a Stronger Relationship in Business and Life
#1 – Find a relationship role model. 
Don't reinvent the wheel! Take notes from other couples who have built great relationships.  Bret and I both model our relationship after our parents', both of which have been married for about 40+ years.  Now, that's not to say that if your parents are divorced, your relationship is doomed.  It just means you need to find a relationship to model yours after.  Both of our parents' relationships are very different, and we've taken things from each couple to build our own.  Pick role models for your relationship and life who make their relationships a priority.
#2 – Buy a relationship book today.
You can never read enough books.  If you want to improve any area of your life, you need to learn more about it… especially your relationships.  I try to read one relationship book each month.  I take away so many new things from each one, and you will, too.  Go out and buy a relationship book today!
#3 – Embrace your differences.
Opposites attract for a reason… and you and your partner are supposed to be together for a reason.  You probably balance each other out.  This is good for business and life.  For instance, I'm very creative and am constantly coming up with new ideas for our business.  Bret on the other hand is a numbers guy – he's great with finances, dates, times, and also great from a managerial standpoint.  He helps apply my ideas to our business in a way that allows us to make it profitable.  Action step: make a list of the qualities in your partner that you don't possess.  Honor your differences!
#4 – Change your thinking. You're better together. 
The way you think about your relationship becomes your reality.  If you think you're unhappy in your marriage, or you think negative things about your partner…this becomes your reality.  If you think about your relationship in a positive light and approach it as if you're better together, you will be!
5 – Make a list of your partner's amazing qualities.
Make your partner feel amazing!  The Golden Rule of Growth: People do things they aren't excited about, try things they've never tried, work harder than they usually work, get more involved than they have before, and they embrace change and growth only when they believe YOU believe they are amazing! Talk about the things you need to work on when you are both feeling good – not when you're in a heated argument. If you want to get your partner on the same path, recruit them!  Compliment them on their strengths, and show them how amazing you really think they are.
For Part II of "Working With Your Partner" and tips 6-11, click here.