Whether you're starting a new workout program, or you're already married to your soulmate workout, one very important part of exercising is your shoes.  And, I'm not just saying this because I have a major shoe addiction.  Shoes really can make all the difference in your workout.  The wrong shoe can result in an injury, like the very common plantar fasciitis.  The right shoe, on the other hand, can make your workout much better and help you stay injury-free.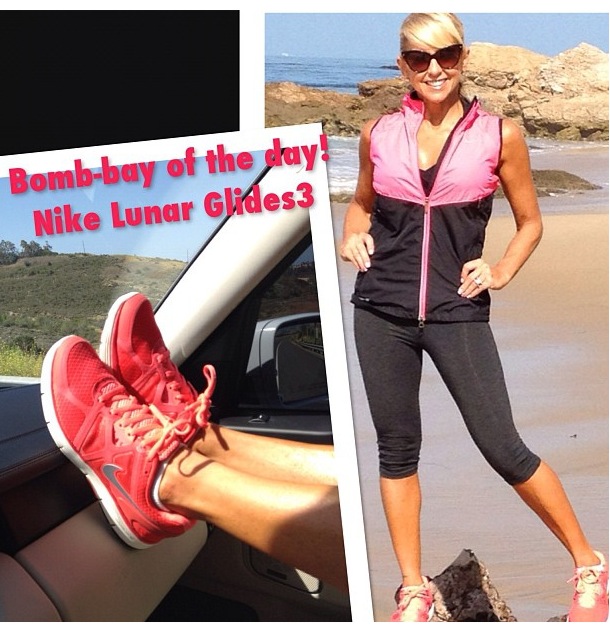 People continually ask me what shoe is best for their workout.  While I can't give a specific answer because everyone's needs are different based on the shape of their specific foot – and I don't recommend a particular brand for everyone – I will give you a few pointers on the best type of shoe for my programs and similar workouts as well as some things you'll want to avoid.
Recommendations for Workout Shoes
For a cardio kickboxing program like Turbo Fire that involves a lot of side-to-side movement and optional plyometrics, you'll want a shoe that provides support for lateral movement and impact.  Basketball shoes or cross trainers are both good options.   Choosing a shoe with great arch support and forefront cushioning can help you have a safe workout and avoid plantar fasciitis.
While the barefoot running shoes are incredibly popular at the moment, I would take caution when using them for a program with a lot of lateral movement and impact. Oftentimes, people feel they can jump higher and go harder with a shoe like this because they are so light. However, the support is minimal, and it is very likely you could end up with an injury or plantar fasciitis.
Overall, be picky with your workout shoes.  When doing lateral movement and impact exercises, be sure to get a shoe with lots of support.  Everyone's foot and needs are different, and so is every brand.  Be open to trying a few different kinds to find the one that is best for you.