Are you one of those people that obsess over the number on the scale? Do you weigh yourself almost daily – or even more than once a day – hoping that each time you step on the scale, the number will go down? While it's good to check in from time to time, obsessing over this number isn't healthy…nor is this number always an accurate reflection of your fitness level. Here are 3 things to keep in mind when weighing yourself so that you have a healthy relationship with the scale…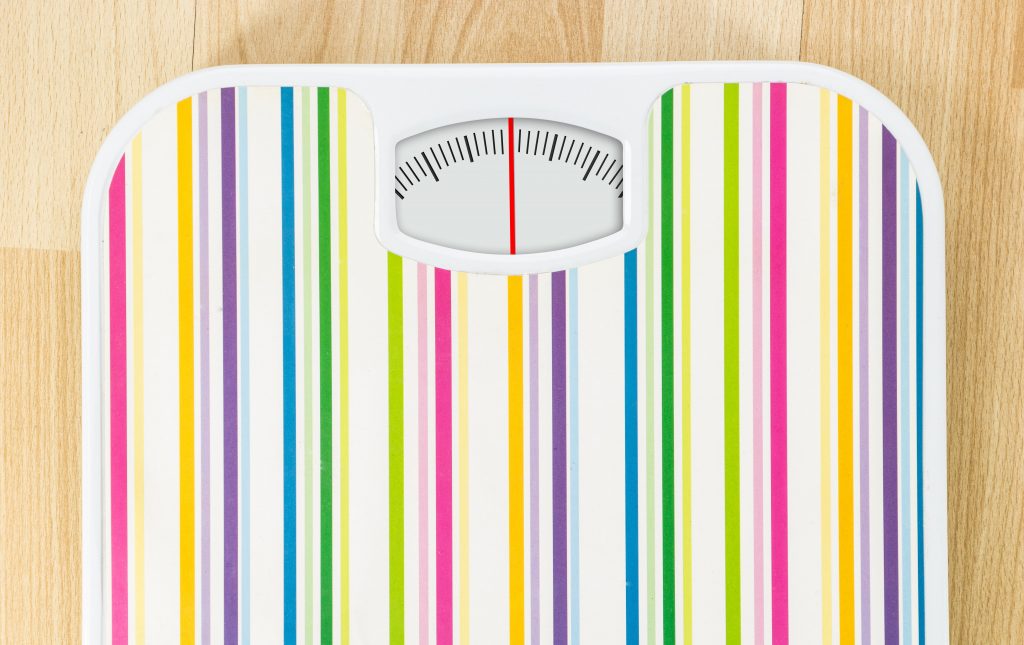 How to Have a Healthy Relationship with the Number on the Scale
1.) Set an increment by which you will weigh yourself.
While you don't want to become obsessed with weighing yourself, you also don't want to get on the scale willy-nilly. If you don't check in periodically, you could find yourself stepping on the scale one day wondering, "How did I gain 10 pounds?" You need to monitor whether or not there is an upward or downward trend in your weight.
So, set a time increment by which you will weigh yourself. Typically, once a week is sufficient. But if you do end up weighing yourself once a day, be OK with the fact that your weight may fluctuate 2-4 pounds from day to day depending on a number of things…(See #2.)
2.) Know your weight can fluctuate 2-4 pounds from day to day.
There are so many things that can affect your weight: where you are in your cycle, the amount of salt in your diet, when you had your last meal, when you had your last bowel movement, and even the rotation of the earth (believe it or not)! So if you step on the scale, and you're 4, even 5 pounds (if you're tall) heavier than the day before, don't freak out!
On the contrary, you also don't want to get on the scale every day and make an excuse like, "Oh, I must be 4 pounds heavier today because of the earth's rotation," when your weight keeps going up, and up, and up. You simply want to monitor whether your weight is consistently going up, down, or remaining the same based on whatever fitness goal you have.
3.) Make sure the number you're striving for is realistic.
Too often, people get a number stuck in their head that they think they should weigh, and they obsess over it. Maybe it was a number at which they felt comfortable in their own skin. However, based on a variety of things, it may no longer be healthy or realistic for their body type.
Here's an example… A week after I had my son, Brock, I weighed what I weighed before I had him. BUT, I wasn't even close to the same size. I was what people call "skinny fat." By the number on the scale, you'd think I was back to my pre-baby body, but that was far from the truth. Muscle weighs more than fat…and at the time, I had less muscle, and more fat.
If you're striving to hit a particular number on the scale, make sure that number makes sense based on the amount of muscle you have. If you're strength training, you will want to add 4 to 5 pounds to that "magic number."
Final Thoughts
Bottom line is, don't judge yourself based on the number on the scale. Keep sticking to those healthy habits and don't obsess over your weight. Know that your worth is based on who you are as a person, not whether or not you can see your abs.
Want more great tips and resources on improving balance, energy, organization, health fitness, relationships, focus, faith and happiness? Each episode of my podcast, The Chalene Show is designed to give you strategies and simple steps you can implement today to become a better, more balanced, happier version of yourself. LISTEN NOW!
Hey! Did you know Build Your Tribe has been resurrected? We had so many request to revive this show, so we brought it back. Listen Now >> https://itunes.apple.com/us/podcast/build-your-tribe
Already a devoted listener to The Chalene Show? Leave a voice message about what topics you'd like to hear on the show or your feedback on a particular episode >> LEAVE A MESSAGE. Chalene would also love for you to leave a review on iTunes! It's kind of like her tip jar >> LEAVE A REVIEW.
Helpful Resources:
Chalene's Courageous Confidence Club: www.courageousconfidenceclub.com
This program gives you the tools you need to build confidence in every area of your life. You are supported by a group of people who are going through the program with you and are a sounding board for decisions and opportunities. This program will get you unstuck from your current situation and will teach you the steps needed to get your life in the direction you want!
Connect with Chalene:
Chalene on Facebook: www.facebook.com/chalene
Chalene on Instagram: www.instagram.com/chalenejohnson
Chalene on Pinterest: www.pinterest.com/chalenejohnson
Chalene on Twitter: www.twitter.com/chalenejohnson
Chalene on Youtube: www.youtube.com/chalenejohnson
Some of my Instagram Accounts:
www.instagram.com/instagramimpact
www.instagram.com/homeworkouts_4u