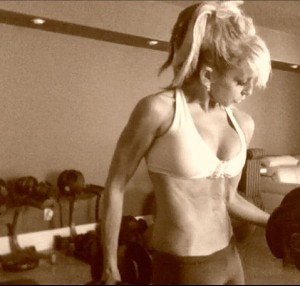 "When's the best time to work out?" People ask me this all the time.  Well, everyone has different times of the day when they feel the most energetic and might get a good workout in…when their biological clock makes them feel strongest.  However, studies show the best time to workout is before the sun comes up before you start your day.  Here's why…
People who exercise in the morning…
Have the most consistency with their workouts
Have the highest energy
Get the best sleep
Get the best results
Are more likely to maintain weight loss
Don't Leave it up to Chance
Even though you might have the most energy in the middle of the day or in the evenings, you're more likely to get your workouts in when you do them first thing in the morning.  I know, I know, you might not feel like waking up that early – even I have a hard time getting out of bed for my workouts some days – but if you don't get it done first thing, you leave it up to chance.
While you might have every intention to exercise after work or later in the day, there are so many things that can come up and keep you from getting your workout in.  Don't leave it up to chance.  When you do it first thing every morning, when everyone else is asleep, you ensure you get it in every day and make it a habit.
A Great Way to Start Your Day
A workout is also a great way to start your day.  You'll jump start your energy and metabolism and set the tone for the rest of your day.  And, you're likely to be in a better mood because of it.
Morning Workouts = Better Sleep
When you exercise every morning, your body gets in a routine.  In the evenings, you'll be ready for bed and are likely to fall asleep faster because of the activity you got in early in the day.
And a better sleep leads to better results and easier weight loss maintenance.  Studies show that those who get efficient sleep (7-8 hours per night) not only have better results, but they're also more likely to keep the weight off.
When you don't get enough sleep, your hormones cause you to crave more food and also hold on to fat, thus keeping you from losing weight or causing you to gain it.
Results and Maintenance
With all of these things combined – consistent workouts, improved energy, and better sleep – not only will your early morning workouts help you to lose weight, but they will give you better, faster, and longer lasting results.
What time is your best time to work out?