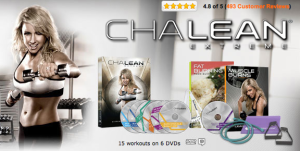 This fitness myth is so strongly held that I believe it is the reason why one of the most effective programs I've ever created never took off on TV, and that is, ChaLEAN Extreme. It's a program I developed around heavy strength training .
Now, I didn't mention the name so you would go out and buy it. I just want to tell you that this program was created with a ton of support from science and the results that people have from this program were like jaw dropping, astonishing.
Not True
So the fitness myth is that when you lift weights, you'll bulk up. In particular, this myth is strongly held by most women. Now I know that this myth is erroneous. I know that by lifting heavy weights, I've been able to completely transform my body. It's how I've been able to keep my body fat lower and to make working out much easier. I don't always have to be doing cardio. I can burn more calories by putting, what I call, that secret weapon in my body, which is muscle.
Muscle is like the fountain of youth. It allows us to naturally generate human growth hormone. Muscle helps us to move and gives us shape. It gives us a lift. Muscle is the bomb-bay-of-the-day. However, it is a very strongly held myth that you're going to bulk up if you lift heavy.
You would be shocked how heavy I lift. I lift as heavy as I possibly can. And when I say that, I try to select the weight that I'm going to fail, meaning, I can't do it after 8-15 reps, depending on what periodization I'm in.
What Women Mistakenly Think: Bulky Fitness Myth
But for many women they believe that if they lift heavy, it's going to bulk them up or make them look manly. Unfortunately, those fears are perpetuated by the stuff that's in the media. I'll never forget that the year I created Chalene Extreme. Mariah Carey had gone on Oprah and was showing Oprah how she toned her arms and she was showing her the exercise that she did. I was like, "Oh no, oh no, now millions of women are going to believe that's really going to tone your arms." She took her arms out to the side and then twisted her hands side to side as if turning door knobs. O lordy, lordy Michael Jordy. This is how this stuff gets perpetuated. That's not what gave her toned arms. That doesn't build any muscle. It doesn't do anything except waste time. Sorry… #notsorry!!!
Hormones
Women can't bulk up because they don't have the muscle building hormone at the level that men do. And of course the muscle building hormone that I'm talking about is testosterone. Yes, we all have testosterone and some men have lower testosterone and some women have higher testosterone. Now women with a higher testosterone level build muscle easier. Women with a lower testosterone level have a very difficult time putting on muscle. But you see, the cool thing about muscle is this, it's gradual. It always cracks me up that people are like, "Oh I took that class and now I'm afraid I'm going to bulk up." Really? Like you think you're going to wake up the next day and go, "Oh no, my biceps are huge. How did this happen? I have huge biceps." It just doesn't happen that way.
I love the size of my shoulders and roundness of my booty. Maybe I want it a little higher, so I'm going to continue to lift and lift heavier until the muscle lifts that booty up the way I want it to look.
But it's gradual. I wish it wasn't. I wish I could just go really hard for a week and wake up the next week and go, "Wooh, look at all those muscles." But it's super gradual, so you need to lift weights in order to reduce body fat in order to have a higher calorie burn while your body is at rest… And in order to look younger and to feel stronger, so no more twisting light bulbs in the air to tone your arms!
Helpful Resources:
Chalene's Courageous Confidence Club: www.courageousconfidenceclub.com
This program gives you the tools you need to build confidence in every area of your life. You are supported by a group of people who are going through the program with you and are a sounding board for decisions and opportunities. This program will get you unstuck from your current situation and will teach you the steps needed to get your life in the direction you want!
Chalene's Social Media:
Facebook: www.facebook.com/chalene
Instagram: http://instagram.com/chalenejohnson
Pinterest: www.pinterest.com/chalenejohnson
Twitter: www.twitter.com/chalenejohnson